Yu-Gi-Oh! (3-in-1 Edition), Vol. 1: Includes Vols. 1, 2 & 3 (Paperback)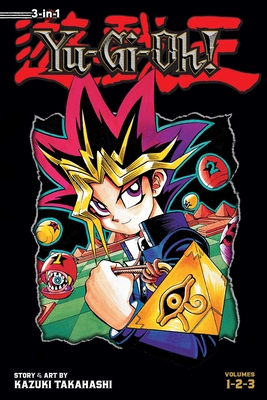 $14.99
This item is not currently available to order.
Description
---
The manga series that inspired the card game that swept the globe!

Tenth-grader Yugi always had his head in some game—until he solved the Millennium Puzzle, an Egyptian artifact containing the spirit of a master gambler from the age of the pharoahs! Possessed by the puzzle, Yugi becomes Yu-Gi-Oh, the King of Games, and challenges evildoers to the Shadow Games…weird games with high stakes and high risks!

Let the games begin! Meet Seto Kaiba, master of the world's most dangerous collectible card game. When Kaiba discovers that Yugi's grandfather owns the incredibly rare "Blue-Eyes White Dragon" card, he will stop at nothing to get it...even if he has to duel with Yugi's dark alter ego Yu-Gi-Oh! Then, out of the sands of Egypt, the mystic Shadi has come to test Yugi's powers, which will give Yugi his greatest challenge yet. If he loses, his best friends will die!
About the Author
---
Original Yu-Gi-Oh! creator Kazuki Takahashi first tried to break into the manga business in 1982, but success eluded him until Yu-Gi-Oh! debuted in the Japanese Weekly Shonen Jump magazine in 1996. Yu-Gi-Oh!'s themes of friendship and competition, together with Takahashi's weird and wonderful art, soon became enormously successful, spawning a real-world card game, video games, and six anime series (two Japanese Yu-Gi-Oh! series, Yu-Gi-Oh! GX, Yu-Gi-Oh! 5D's, Yu-Gi-Oh! Zexal, and Yu-Gi-Oh ARC-V).