Yu-Gi-Oh! (3-in-1 Edition), Vol. 2: Includes Vols. 4, 5 & 6 (Paperback)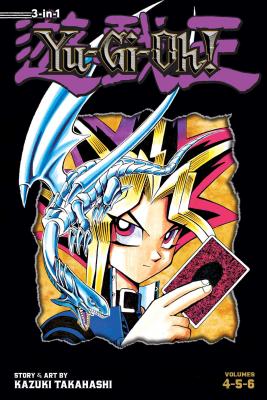 $14.99
This item is not currently available to order.
Description
---
The manga series that inspired the card game that swept the globe!

Tenth-grader Yugi always had his head in some game—until he solved the Millennium Puzzle, an Egyptian artifact containing the spirit of a master gambler from the age of the pharoahs! Possessed by the puzzle, Yugi becomes Yu-Gi-Oh, the King of Games, and challenges evildoers to the Shadow Games…weird games with high stakes and high risks!

When Yugi beat his classmate Kaiba at a simple game of Duel Monsters, he didn't realize that Kaiba was Japan's number-one gamer, heir to the Kaiba Corporation and a vengeful madman! Now Yugi and his friends must survive Kaiba's "Death-T"! Standing between them and escape are the two Kaiba brothers, who have spent years and millions of dollars building the greatest Duel Monsters deck ever.
About the Author
---
Original Yu-Gi-Oh! creator Kazuki Takahashi first tried to break into the manga business in 1982, but success eluded him until Yu-Gi-Oh! debuted in the Japanese Weekly Shonen Jump magazine in 1996. Yu-Gi-Oh!'s themes of friendship and competition, together with Takahashi's weird and wonderful art, soon became enormously successful, spawning a real-world card game, video games, and six anime series (two Japanese Yu-Gi-Oh! series, Yu-Gi-Oh! GX, Yu-Gi-Oh! 5D's, Yu-Gi-Oh! Zexal, and Yu-Gi-Oh ARC-V).