How to Be the World's Smartest Traveler (and Save Time, Money, and Hassle) (Paperback)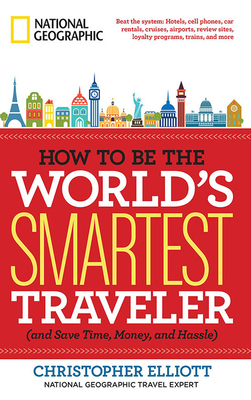 $21.95
This item is not currently available to order.
Description
---
Leading travel expert and USA Today columnist Christopher Elliott shares the smartest ways to travel in this tip-filled guide from National Geographic. Drawing on more than 20 years of experience as a consumer travel advocate, Elliott gives you the inside scoop on how to navigate the often perplexing world of travel, with detailed advice on:


   • Airlines
   • car rentals
   • cruises
   • hotels and alternative lodging
   • the TSA and security
   • staying connected
   • review websites
   • resolving complaints
   • vacation rentals
   • passports and visas
   • and much more
Full of recommendations, real-life case histories, and the answers to the most common—and confounding—questions, this book is a must-read for anyone traveling anywhere.
About the Author
---
CHRISTOPHER ELLIOTT is a nationally acclaimed consumer advocate who is National Geographic Traveler's Editor-at-Large and resident ombudsman. He writes their "Problem Solved" column, a nationally syndicated weekly travel column, a regular USA Today column, and a daily blog focused on solving consumer travel problems. Elliott writes a weekly column for The Washington Post and is a personal finance blogger at Mint.com. He's hosted a cable TV show and a nationally syndicated radio show, and was an independent producer for NPR and a commentator for both NPR andMarketplace. As a pioneer in digital journalism, he founded the Internet's first business travel website in 1994 and began blogging in 1996, before it was called blogging. He became ABCNews.com's first travel columnist in 1997, and his work has since appeared in a variety of major news outlets, including CBS Interactive, CNN.com, MSNBC.com and USAToday.com. As an early adopter, he was one of the first journalists with a presence on Facebook, Google+, and Twitter. Currently, his family is on an open-ended journey around the world, covering the adventure for nationalgeographic.com and the Huffington Post.
Praise For…
---
"The USA Today columnist draws on his 20 years as a travel advocate to give the inside scoop on how to navigate the world of travel, with detailed advice." --Publishers Weekly

"An indispensable road map....even seasoned travelers can learn something from this wide-ranging guide that hits on everything from finding the ideal suitcase to snagging a great airfare." --USA Today

"For less than $20 you can save yourself a thousand travel tears." --Detroit Free Press

"Whether you're planning a once-in-a-lifetime vacation or you travel regularly for business, this is a book you can use." --Library Journal

"Even the most seasoned travelers can use a helping hand, especially as traveling has become increasingly complicated....Elliott offers tips and advice — and plenty of them." --Chicago Tribune

"Christopher Elliott, the trusted consumer travel advocate...has compiled his tips and strategies into a book, whose spot-on subtitle promises to "Save Time, Money and Hassles" for travelers." --The Sacramento Bee