I'm Not Missing: A Novel (CD-Audio)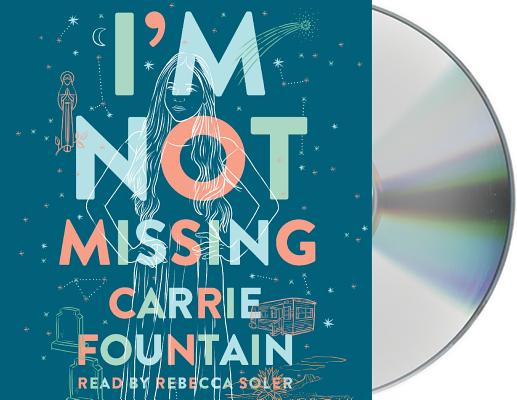 Email us for price & availability: info@oblongbooks.com
Special Order - Subject to Availability
Description
---
From award-winning poet Carrie Fountain comes a debut audiobook set in Las Cruces, New Mexico, about a half-Latina girl stepping outside of the shadow of her best friend.

It's senior year, and Miranda Black's best friend, Syd, has run away—suddenly and inexplicably, leaving behind nothing but a pink leopard print cell phone with a text message from the mysterious HIM. Everyone wants to know why Syd left, but the truth is, Miranda has no idea. When Miranda's mother abandoned her as a child, Miranda had found shelter in her friendship with Syd, who wore her own motherlessness like a badge of honor. Now Miranda's been left behind again, left to untangle the questions of why Syd left, where she is—and if she's even a friend worth saving, all while stumbling into first love with the most unlikely boy in school. How do you take on the future when it feels like so much of your past wasn't even real?

Praise for I'm Not Missing:

"I savored and cherished this funny, tender, poetic novel about yearning, love, loss, ambition, and the big questions of life." —Margo Rabb, author of Kissing in America and Cures for Heartbreak

"This book has won my heart." —Naomi Shihab Nye, author of Habibi
About the Author
---
Carrie Fountain's poems have appeared in Tin House, Poetry, and The New Yorker, among others. Her debut collection, Burn Lake, was a National Poetry Series winner and was published in 2010 by Penguin. Her second collection, Instant Winner, was published by Penguin in 2014. I'm Not Missing is her debut novel. Born and raised in Mesilla, New Mexico, Fountain received her MFA as a fellow at the James A. Michener Center for Writers at the University of Texas at Austin. Currently writer-in-residence at St. Edward's University, she lives in Austin with her husband, playwright and novelist Kirk Lynn, and their two children.

Rebecca Soler is a film and voiceover actress who won a 2009 AudioFile Earphones Award for her narration of After by Amy Efaw. Her audiobook credits include work by authors such as Judy Blume, James Patterson and Sarah Dessen. Soler has also narrated the popular young adult series The Lunar Chronicles by Marissa Meyer. Her voice over credits include various video games, like Star Wars: The Old Republic and Red Dead Redemption and television shows such as Pokemon, Yu-Gi-Oh, and Teenage Mutant Ninja Turtles. She lives in New York City.
We appreciate your continued support!
If you would like to make a donation to help us through CLICK HERE.