PEREMOHA: Victory for Ukraine (Paperback)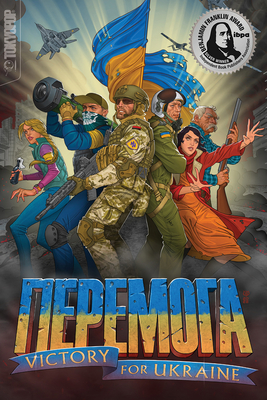 $14.99

Available in our Warehouse: Usually Ships in 3-8 Days
Description
---
IF YOU WERE ATTACKED, WOULD YOU FIGHT BACK?

What if your family, your hometown, your entire way of living were threatened by force?  That's what the people of Ukraine faced when Putin's Russian army invaded their sovereign land, displacing millions of refugees and causing an international crisis threatening democracy across the globe.  But the Ukrainian people refused to cave — and these 9 stories weave the greater tale of their resistance — and fight for Victory!

Victory for Ukraine is a collection created by Ukrainian artists during the first weeks of the Russian invasion, channeling all their emotions - their anger, courage dreams, and despair into one goal, one manifestation of their nation's fight for survival!

Proceeds from VICTORY FOR UKRAINE will be donated by TOKYOPOP to directly benefit Razom for Ukraine, ("Razom" meaning "together" in Ukrainian), a non-profit Ukrainian-American human rights organization established to give direct support to the people of Ukraine in their pursuit of a democratic society with dignity, justice, and human and civil rights for all.
Praise For…
---
"Written and illustrated by Ukrainian creators, PEREMOHA doesn't just chronicle recent events during Russia's invasion. Instead, it turns some of these now more well known circumstances on their head. From a witch enacting her own vengeance on intruders to a slightly retold version of the Russian attack on Snake Island, PEREMOHA sucked me right in from the first page. This is a phenomenal way for folks to connect emotionally with what all is happening in Ukraine, what has happened in the past, and what will happen in the future." — Kvothe Harris, Rediscovered Books
"But there is no room to debate the merits of PEREMOHA: Victory for Ukraine, since it is ultimately the artistic embodiment of a nation's desire to maintain its sovereignty and protect its people. [...] All of us who desire a democratic world free from senseless war and violence should read this graphic novel, and understand the Ukrainian fight for freedom." 
— Brett Michael Orr, Honey's Anime
"For anyone looking for an engrossing learning experience in hopes of understanding what Ukraine is currently going through, along with a history lesson in the nation's past, this graphic novel is a must-buy." 
— Joe Anthony Myrick, Screen Rant