Expert PHP and MySQL: Application Design and Development (Expert's Voice in Web Development) (Paperback)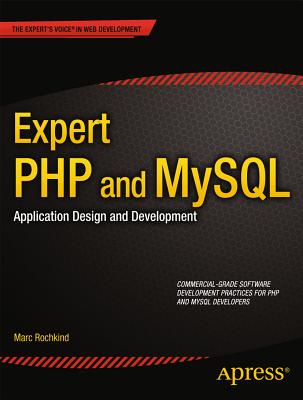 $71.49

Available in our Warehouse: Usually Ships in 3-8 Days
Description
---
Expert PHP and MySQL takes you beyond learning syntax to showing you how to apply proven software development methods to building commerce-grade PHP and MySQL projects that will stand the test of time and reliably deliver on customer needs.
Developers of real-world applications face numerous problems that seem trivial on the surface, but really do take some skill to get right. Error handling is about more than just the mechanics in the PHP syntax, but also about handling MySQL errors, logging those errors, and about hiding information about application internals that error messages sometimes can expose.
Meet these challenges and more head-on Author Marc Rochkind shows how to begin a project right, with a clear contract and set of written requirements. You'll learn about project organization, setting up a solid development environment, connecting with client personnel. Database design is essential, and Expert PHP and MySQL has you covered with guidance on creating a sound model and database, and on pushing functionality into the database as appropriate; not everything should be done in PHP.
Error handling is covered at both the PHP and MySQL levels. Application structure is covered. Guidance is provided on reporting. And finally there is conversion. In Expert PHP and MySQL you'll explore the following:
The popular and widely used combination of PHP and MySQL
Commercial-grade application of language and database features
Human factors such as planning and organization
Organizing a project to meet requirements and satisfy the customer
Structuring an application for efficient development and future modification
Coding PHP for productivity, reliability, security
Generating online, downloadable, and printed reports
Converting existing data to the new application
About the Author
---
Marc Rochkind has a long and successful career with roots in computing history for his work on UNIX during his time at Bell Labs from 1970 to 1982. During that time he invented the Source Code Control System, the forerunner of all modern source-control systems. Marc is a successful author, notably for his book Advanced UNIX Programming that covers programming the UNIX kernel. More recently, Marc has spent time developing a number of projects in PHP running against databases such as Oracle Database and MySQL. Marc has an MS in Computer Science from Rutgers. He writes books and develops iOS, MacOS, and Windows apps that you can learn more about by visiting http: //basepath.com