Older Women Who Work: Resilience, Choice, and Change (Psychology of Women) (Paperback)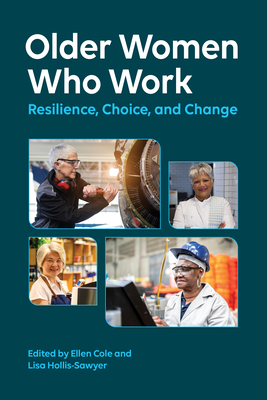 $89.09

Available in our Warehouse: Usually Ships in 3-8 Days
Description
---
Older Women Who Work: Resilience, Choice, and Change provides one of the first in-depth examinations of women age 65 and older who have delayed retirement, exploring personal and career identity, social roles, and quality of life concerns.
The seventeenth book in APA's Division 35 Psychology of Women series, this edited volume presents a rich array of qualitative and quantitative research on older women's experiences in the workplace. Chapter authors share insights about how organizational leaders can change societal structures to better support the motivations and needs of diverse older women in the workplace. The book also describes how consultants, educators, and mental health professionals can encourage development of personal grit, to help the growing numbers of older women exercise their right to opportunities and be adaptable in the face of employment challenges.
About the Author
---
Ellen Cole, PhD, is Professor of Psychology at the Sage Colleges where she teaches in the Counseling and Community Psychology graduate program. She is past-president of the Alaska Psychological Association and the Society for the Psychology of Women of the American Psychological Association (APA Division 35). In 2016 she received Division 35's Florence L. Denmark Award for Contributions to Women and Aging. Dr. Cole works on several fronts to change the perception of aging from one that is medically driven to one that focuses on quality of life and celebration. She lives in Albany, NY. Visit her blog at 70Candles.com. Lisa Hollis-Sawyer, PhD, coordinates the Gerontology program at Northeastern Illinois University and is an Associate Professor in the Psychology Department. In 2014, she received an American Psychological Association (APA) Division 20 award on mentoring students in the field of gerontology and, in 2017, she received APA Division 35's Florence L. Denmark award for her research over three decades on older women's role transitions and quality of life outcomes. She is guided in professional life and community service to be an advocate for diverse aging women and older workers' rights. Dr. Hollis-Sawyer lives in the Chicago, IL area. Follow her on Twitter: @LHollisSawyer.