The Adirondack Architecture Guide, Southern-Central Region (Excelsior Editions) (Paperback)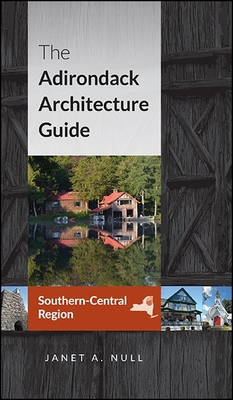 Description
---
Finalist for the 2017 Foreword INDIES Book of the Year Award in the Regional category

The Adirondack Architecture Guide, Southern-Central Region provides a professional and insightful survey of the built environment of a unique area within New York's Adirondack Park. This book is the first field guide to the architecture of the Park, revealing the ordinary and the extraordinary, the remarkable buildings by prominent designers, as well as the hidden, unexpected gems few know exist. Based on more than seven thousand miles of fieldwork and years of research, the guide comprises more than seven hundred sites traversing the geographic range, socioeconomic strata, and historical span of the region from the late 1700s to the present. Organized according to clearly marked travel routes and fourteen tours on the ground and on the water, it features detailed maps and coordinates for each site, along with many beautiful photographs. Also included are eleven companion essays drawing on the expertise of professionals, local historians, and Adirondack residents that delve into the what, where, and why people built in the Adirondacks.
About the Author
---
Janet A. Null is an award-winning architect and President of Argus Architecture & Preservation, P.C. She lives in upstate New York and has practiced throughout the Adirondack region for more than twenty-five years.
We appreciate your continued support!
If you would like to make a donation to help us through CLICK HERE.