Ethical Encounters: Transnational Feminism, Human Rights, and War Cinema in Bangladesh (Paperback)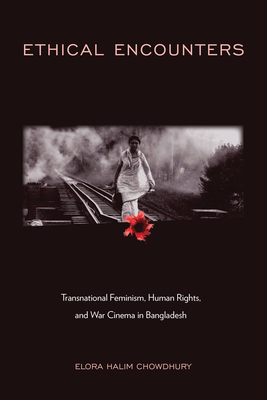 $37.89

Available in our Warehouse: Usually Ships in 3-8 Days
Description
---
Ethical Encounters is an exploration of the intersection of feminism, human rights, and memory to illuminate how visual practices of recollecting violent legacies in Bangladeshi cinema can conjure a global cinematic imagination for the advancement of humanity. 
By examining contemporary, women-centered Muktijuddho cinema—features and documentaries that focus on the Bangladesh Liberation War of 1971—Elora Chowdhury shows how these films imagine, disrupt, and reinscribe a gendered nationalist landscape of trauma, freedom, and agency. Chowdhury analyzes Bangladeshi feminist films including Meherjaan, and Itihaash Konna (Daughters of History), as well as socially-engaged films by activist-filmmakers including Jonmo Shathi (Born Together), and Shadhinota (A Certain Liberation), to show how war films of Bangladesh can generate possibilities for gender justice. 
Chowdhury argues that justice-driven films are critical to understanding and negotiating the layered meanings and consequences of catastrophic human suffering yet at the same time they hint at subjectivities and identities that are not reducible to the politics of suffering. Rather, they are key to creating an alternative and disruptive archive of feminist knowledge—a sensitive witnessing, responsible spectatorship, and just responsibility across time, and space. 
Drawing on Black and transnational feminist critiques, Chowdhury explores questions around women's place, social roles, and modes of participation in war as well as the visual language through which they become legible as victims/subjects of violence and agents of the nation. Ethical Encounters illuminates the possibilities of film as a site to articulate an ethics that acknowledges a founding violence of the birth of a nation, recuperates it even if in fragments, and imagines differently the irreconcilable relationship between humanity, liberty, and justice.
About the Author
---
Elora Halim Chowdhury is Professor of Women's, Gender and Sexuality Studies at the University of Massachusetts Boston. She is the author of Transnationalism Reversed: Women Organizing Against Gendered Violence in Bangladesh, which won the National Women's Studies Association's Gloria Anzaldúa Book Prize. She is the coeditor of South Asian Filmscapes: Transregional Encounters; Interdisciplinary Approaches to Human Rights: History, Politics, Practice; and Dissident Friendships: Feminism, Imperialism, and Transnational Solidarity.
Praise For…
---
"Inspired by critical Black and transnational feminist traditions, Ethical Encounters offers a compelling and comprehensive analysis of how women-centered films about the Bangladesh Liberation War navigate patriarchal nationalisms and dehumanizing racial and gender ideologies. Ethical Encounters is a must-read for anyone interested in visual modalities of spectacle and surveillance and the power of human rights cinema to narrativize colonial violence and transgress statist histories."—Wendy S. Hesford, Ohio Eminent Scholar and Professor of English at The Ohio State University, and author of Violent Exceptions: Children's Human Rights and Humanitarian Rhetorics
"Ethical Encounters lucidly highlights the fraught registers feminist filmmakers have to straddle when engaging with the narratives of human rights, genocide, and nationalism in trying to highlight the various unacknowledged injustices of the Bangladesh War of 1971. Chowdhury brings out the tightrope of filmmaking in Bangladesh and shows the various ethical negotiations filmmakers make in relation to the production, circulation, and consumption of the accounts of death, injury, and sexual violence during Muktijuddho and the various moral choices generated. This book enables a timely understanding of contemporary Bangladesh through the cinematic lens of 1971."—Nayanika Mookherjee, Professor of Political Anthropology at Durham University, UK, and author of The SpectralWound: Sexual Violence, Public Memories, and the Bangladesh War of 1971