Stay Alive!: Survival Skills You Need (Paperback)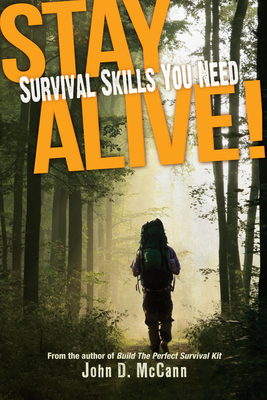 $22.99

Available in our Warehouse: Usually Ships in 3-8 Days
Description
---
Having a survival kit is not enough — You must know what to do with it!

An emergency can arise at anytime, and everyone from the average commuter to the risk-taking sportsman can benefit from knowing basic survival skills. Armed with the techniques in Survival Skills You Need, you will be prepared to survive.

Building on the essentials presented in his first book, Build the Perfect Survival Kit, author John D. McCann details the survivor mentality required to survive common emergencies, then goes on to explain the component skill categories that you must execute to stay alive, including:

   • Survival kits
   • Knives & tools
   • Fire
   • Shelter
   • Water
   • Signaling for help
   • Navigating your way to safety
   • Food
   • First aid


With more than 300 full-color photos, Survival Skills You Need provides clear, detailed solutions for surviving emergencies during adventure, sport and travel.
About the Author
---
John McCann founded Survival Resources™ with the goal of offering the best survival products available. After the publication of his book Build the Perfect Survival Kit, John realized there was an absence of businesses that specialized in providing survival products and equipment, especially survival kit components, so he started selling them. Customers starting asking if John would design and build some ready made survival kits. At first, he declined, wanting people to build their own kits from the components he offered. However, after some more prompting, he started designing and offering ready-made kits and they became an instant success. Survival Resources also offers outdoor skills courses, and John is the Chief Instructor. McCann lives in Hyde Park, NY.