The Official M.I. Hummel Price Guide: Figurines & Plates (Paperback)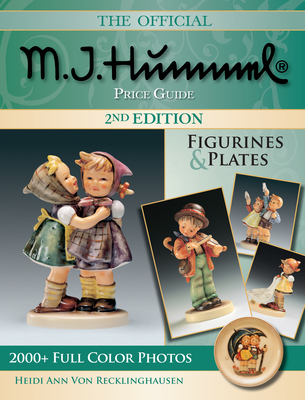 $29.99
This item is not currently available to order.
Description
---
It's official--the finest M.I. Hummel resource!

The charm and innocence of rosy-cheeked children, captured in M.I. Hummel's heartwarming artwork, have inspired one of the world's most beloved collectibles. The new edition of The Official M.I. Hummel Price Guide celebrates the joy of collecting these cherished figurines.

The Official M.I. Hummel Price Guide is the most authoritative and delightfully illustrated resource on M.I. Hummel collectibles available. Collectors and fans will find all the information they need to identify and determine the value of each piece in their collection using this book, which is officially licensed by ARS AG, Baar/Switzerland, licensor of M.I. Hummel.

   • 2000+ full color images.
   • Enhanced and expanded section of exclusive historic drawings by Maria Innocentia Hummel paired with the figurines they inspired.
   • Completely updated listings and values for all your old favorites PLUS the latest editions in the "2000 Series."
   • Listings arranged by Hum number for ease in identification.
   • History of M.I. Hummel collectibles as well as detailed information on understanding and deciphering nearly 80 years of M.I. Hummel trademarks.
   • Full alphabetical index for effortless cross-referencing.
About the Author
---
Hummel collecting has a long and storied history in author Heidi Von Recklinghausen's family. Both the New York native's mother and grandmother collect Hummel figurines, inspiring Heidi as a young girl to follow in their footsteps. An active member of the International M.I. Hummel Club, Heidi is serving her third term as a New York chapter advisory board member. Heidi has hundreds of Hummel figurines in her personal collection and is always on the lookout for prized additions.