Freeform Wire Art Jewelry: Techniques for Designing With Wire, Beads and Gems (Paperback)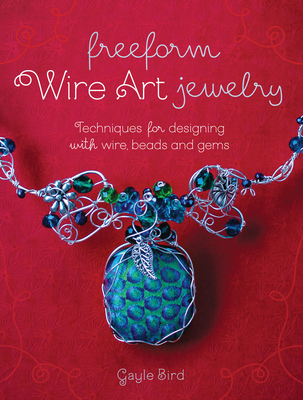 $27.49
This item is not currently available to order.
Description
---
Twist, curl and wrap wire into one-of-a-kind jewelry!

Follow along with author Gayle Bird as she teaches you everything you need to know to create her signature jewelry designs. First learn the basics of color and design, then move into essential wire tutorials. From there, you'll work your way through 20 step-by-step jewelry projects, including earrings, rings and necklaces. By the time you finish the book, you'll be ready to design your own statement jewelry, complete with swirling wire and dazzling gems.

Features:

   • Tutorials on the essential wire techniques, including spirals, curls and more.
   • Chapter on design gives the foundation for creating unique pieces.
   • Step-by-step directions for 20 projects.
About the Author
---
Gayle Bird is an online education and course developer, writing and teaching curriculum for adult learners in various design subjects. She taught herself jewelry design and became a juried member of the Cape Breton Centre for Craft and Design in Nova Scotia in 2007. Her jewelry is sold in stores across Nova Scotia.
Praise For…
---
"You can effortlessly work your way through Gayle's book, Freeform Wire Art Jewelry: Techniques for Designing With Wire, Beads and Gems because she covers the basics of wire jewelry making, techniques involved in wire jewelry making and clear and easy step by step instructions to her very own beautiful signature designs!" --Handmade Jewelry Club

"This book will suit those who like a more organic look to wire work and aren't afraid to go with the flow for spontaneous designing!" --Beading Gems

"The book spans 144 beautiful pages, and contains 20 projects of earrings, rings, pendants, necklaces, and even a chain. The book itself is a high quality paperback with the kind of spine that lays pretty flat so that you can have it open on your workbench while you work through the steps." --The Blue Bottle Tree

"Having now read Freeform Wire Art Jewelry, I am quite confident that with a little practice, and a lot of patience, I could conceivably create pieces that were not only appealing, but original and quite worth the effort. And I think I would enjoy it, too." --Like Madness in the Spring