Strauss's Handbook of Business Information: A Guide for Librarians, Students, and Researchers (Hardcover)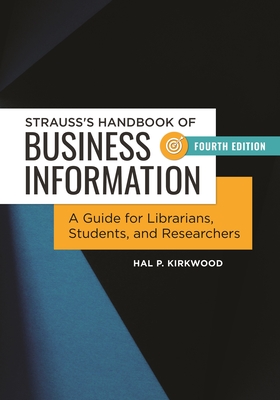 $168.00

Available in our Warehouse: Usually Ships in 3-8 Days
Description
---
Strauss's Handbook of Business Information is a resource for finding and understanding business information. It contains explanation and instruction on the key facets of business information and provides detailed descriptions of key resources within both broad and specific categories. It can be used as a guide to further understanding the what, how, and why of business information research.
The changing arena of business information requires regular updating and awareness. This new edition has been thoroughly updated with three new chapters: Entrepreneurship, Competitive Intelligence, and Corporate Social Responsibility. Other additions of note include subsections on internet and mobile marketing and tax havens and related issues; coverage of new legislation (e.g., Dodd-Frank); and subsections on index funds, investment communities, regulatory bodies and laws, hedge funds, venture capital companies, assessing risks, robo-advisors, and more.
The Handbook is for students, faculty, librarians, and information professionals looking to gain a broader and deeper understanding of business information. Anyone needing to gain quick exposure to business information needs and resources for solutions will benefit from the volume as well.
About the Author
---
Hal P. Kirkwood is Bodleian Business Librarian at the Sainsbury Library of Said Business School, Oxford University. Previously, he served as associate professor at the Parrish Library of Management & Economics at Purdue University.