Almost Astronauts: 13 Women Who Dared to Dream (Compact Disc)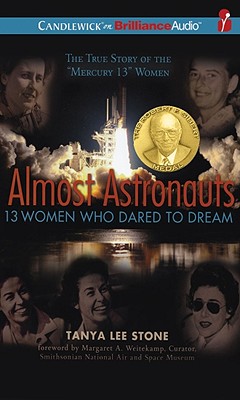 $19.99
This item is not currently available to order.
Description
---
Have you ever heard of the "Mercury 13" women? Did you know that nearly twenty years before the first women were let into NASA's astronaut program, there were others who tried?
What are the requirements for being shot into space, piloting a hunk of metal while carrying the hopes and fears of your nation? Mastery of flying, as well as courage, intelligence, resistance to stress, and fitness--any checklist would certainly include these. But when America created NASA in 1958, there was an unspoken rule in place: astronauts must be male, and they must be white.
Here is the tale of thirteen women who proved not only that they were as tough as any man but also that they were brave enough to challenge the government. Their passage to space was blocked by prejudice, jealousy, and a note scrawled by one of the most powerful men in Washington. But in the end, their inspiring example empowered young women to take their rightful place in the sky, piloting jets and commanding space capsules. Almost Astronauts is the story of thirteen true pioneers of the space age.