Noggin (Hardcover)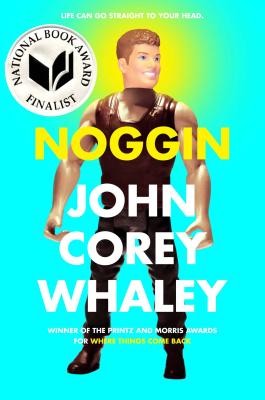 $19.99

Available in our Warehouse: Usually Ships in 3-8 Days
Staff Reviews
---
NOGGIN is the improbable yet wholly believable story of Travis, a
cancer-ridden teen who has his head cut off and cryogenically frozen in
hopes that someday medical science will advance and he'll be able to get
reattached to a healthy donor body. Fast-forward 5 years: Travis is
back & feeling better than ever. Only all his friends are now in
their 20s, his girlfriend is engaged to someone else, and he's still
stuck in high school. I LOVED this hilarious, heart-filled story.
— Suzanna
Description
---
2014 National Book Award Finalist
A Time Best YA Book of All Time (2021)

Travis Coates has a good head…on someone else's shoulders. A touching, hilarious, and wholly original coming-of-age story from John Corey Whaley, author of the Printz and Morris Award–winning Where Things Come Back.

Listen—Travis Coates was alive once and then he wasn't.
Now he's alive again.
Simple as that.

The in between part is still a little fuzzy, but Travis can tell you that, at some point or another, his head got chopped off and shoved into a freezer in Denver, Colorado. Five years later, it was reattached to some other guy's body, and well, here he is. Despite all logic, he's still sixteen, but everything and everyone around him has changed. That includes his bedroom, his parents, his best friend, and his girlfriend. Or maybe she's not his girlfriend anymore? That's a bit fuzzy too.

Looks like if the new Travis and the old Travis are ever going to find a way to exist together, there are going to be a few more scars.

Oh well, you only live twice.
About the Author
---
John Corey Whaley grew up in Louisiana. His debut novel, Where Things Come Back, was the 2012 winner of the Michael L. Printz and the William C. Morris Awards. You can learn more about him at JohnCoreyWhaley.com and follow him on Twitter: @Corey_Whaley.
Praise For…
---
* "Travis Coates has lost his head—literally.... [A] wonderfully original, character-driven second novel. Whaley has written a tour de force of imagination and empathy, creating a boy for whom past, present, and future come together in an implied invitation to readers to wonder about the very nature of being. A sui generis novel of ideas, Noggin demands much of its readers, but it offers them equally rich rewards."
— Booklist, November 2013, *STARRED REVIEW

"The madcap story of a boy who loses his head and finds it again. . . . Readers will recognize the Printz winner's trademark lovable characterizations. . . . They'll also recognize the poignantly rendered reflections on life, love, death and everything in between. . . . Whaley's signature cadence and mad storytelling skillz are worth every page. A satisfyingly oddball Frankenstein-like tale of connectivity."
— Kirkus Reviews, February 2014

* "Travis Coates has his head surgically removed and cryogenically frozen after he dies (of leukemia at age 16)...five years after his death, technological advances allow doctors to attach his head to a donor body that's taller and more muscular than the original.... Travis's comic determination to turn back the hands of time...is poignant and heartbreaking. His status in limbo will resonate with teens who feel the same frustration at being treated like kids and told to act like adults."
— Publishers Weekly, January 2014, *STARRED REVIEW

"Whaley's sweet and raunchy first-person narrative provides a thought-provoking look at the notions of self-awareness, the nature of identity, and the angst of a very special teen. The lively, conversational style will engage teen readers in search of an unusual, but relatable, character. At times hilarious and heart-wrenching, Noggin, with its eye-catching cover art, belongs in all library collections serving young adults."
— VOYA, February 2014

"Readers will find it easy to become invested in Travis's second coming-of age—brimming with humor, pathos, and angst—and root for him to make peace with his new life."
— Horn Book Magazine, March/April 2014

"Travis Coates, 16, is dying of cancer, so he accepts an offer from a cryogenic group to have his head removed and frozen with the hope that it would be attached to another body in the future and he could be reanimated. Five years later, he "wakes up" with a new body and is still 16. . . . The premise of the story is interesting. . . . The author does a good job of describing the emotions and reactions of all of the characters."
— School Library Journal, March 2014

* "What is it like to be frozen, à la Ted Williams, never believing you'll really come back--and then you do? That's the preposterous premise of John Corey Whaley's novel, conveyed with realistic emotions that keep his narrator, Travis, grounded, and the story credible--and also highly entertaining--for readers. . . . Whaley makes his hero's implausible situation absolutely convincing. The questions lurking behind Travis's sometimes rash actions plague all teenagers. . . . Ultimately this insightful story explores the challenges of intimate relationships and managing expectations. Whaley asks teens to think about the life they want to make for themselves."
— Shelf Awareness, April 2014, *STARRED REVIEW*

"NOGGIN is an incredibly imaginative way to examine the universal feeling of longing to return to the way things use to be…. Far from predictable, NOGGIN contains a few twists to keep readers guessing, but the real heart of the book is the hang up on the past--the feeling that if you could just remind someone you loved how things used to be, old feelings would quickly return. It also focuses on larger issues, like how to deal with the weight of other's expectations, and how to get a friend to be true to themselves. NOGGIN is a novel about trying for a future very different from the one you planned, and learning to be ok with the change. Funny and relatable, fans of Whaley's first novel WHERE THINGS COME BACK won't be disappointed."
— Teenreads.com, April 2014

"The premise of John Corey Whaley's young adult novel "Noggin" – outlandish as it is – has such wonderful resonance. . . . Whaley has a gift for detail. . . . He can be very funny. . . . And, like [John] Green, he can choke you up."
— New York Times Book Review, May 2014

"A graceful combination of raw heartbreak and biting wit (including plenty of head puns) guides Travis through [his] existential search for life's meaning and survival. . . . While the novel's premise may be straight out of Hollywood, Travis' voice could not be any truer. Fans of John Green will welcome this smart tearjerker."
— BookPage, April/May 2014, Top Pick

"We weren't sure what to expect from this one, but were pleasantly surprised by honest, funny and incredibly likeable Travis. As a walking miracle, he should be grateful, but he struggles with feeling out of step in his own life. Noggin is filled with loving relationships that remind us that even with the kindest people and the best intentions, life is complicated."
— Justine Magazine, June/July 2014