Super Chien: N° 3 - Conte de Deux Minets (Paperback)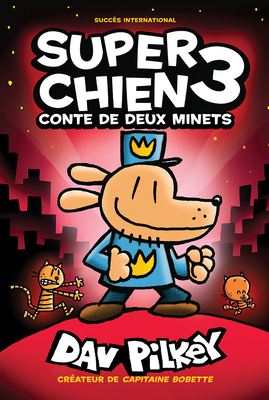 $16.99
This item is not currently available to order.
Other Books in Series
This is book number 3 in the Super Chien series.
Description
---
See below for English description.
Super Chien, moiti homme, moiti chien, est un chien-policier qui court assez vite pour attraper les bandits, mais qui laisse beaucoup de bave dans son sillage. Cette fois-ci, il sera confront deux super m chants, ce qui veut dire qu'il aura deux fois plus de travail pour prouver qu'il a sa place au poste, malgr sa dr le de t te (et ses comportements pas toujours normaux).
Avertissement: Ce livre n'est pas pour les adultes, sauf s'ils ont un tr's bon sens de l'humour. Les blagues godiches de Super Chien feront clater de rire les enfants et leur donneront encore plus envie de lire.
Dog Man is back, and he's about to be bested by the world's most conniving cat crook
Dog Man, the newest hero from the creator of Captain Underpants, hasn't always been a paws-itive addition to the police force. While he can muzzle miscreants, he tends to leave a slick of slobber in his wake This time, Petey the cat's dragged in a tiny bit of trouble -- a double in the form of a super-cute kitten. Dog Man will have to work twice as hard to bust these furballs and remain top dog
Original title: Dog Man #3: A Tale of Two Kitties