List Your Self: Listmaking as the Way to Self-Discovery (Hardcover)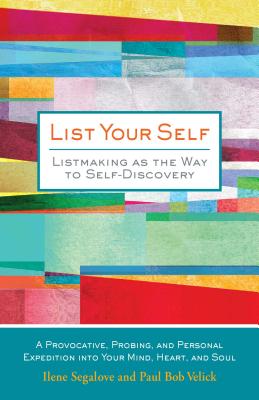 $16.49
This item is not currently available to order.
Description
---
List Your Self is the best-selling, original listmaking journal that unlocks the door to your personal identity through easy, provocative, and liberating lists for self-discovery. Listmaking never gets boring and this 20th anniversary edition of this groundbreaking journal includes 100 all new list prompts reflecting how we live today.

Listmaking is easier than journaling because you don't have to pour your heart out, record your days, or pass judgement. One list leads to another and before you know it, you're on a playful yet profound excursion into your past, present, and future.

Authors, Ilene Segalove and Paul Bob Velick, offer 275 journaling questions designed to inspire serious self-reflection and real discovery and answers. The list categories encourage readers to write about their fears, loves, regrets, life changes, friendships, health regimes, superpowers, screen habits, wishes, and more-all of which are destined to lead to a deeper understanding of themselves, their goals, and dreams.

 
About the Author
---
Ilene Segalove is a book editor, a writing coach, and multimedia artist. She lives in Santa Barbara, CA.

Paul Bob Velick is a professional self-leadership coach for men who works privately and in group settings to connect men to their purpose, success, and creativity. He lives in Mar Vista, CA.