By the Iowa Sea: A Memoir (Hardcover)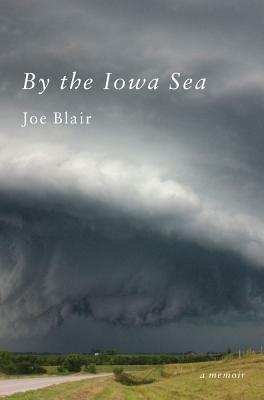 March 2012 Indie Next List
---
"This is a perfectly written book about a very complicated family under extraordinary circumstances. A troubled couple, Joe and his wife, along with their four kids, live in Coralville, Iowa, at nightmarish flood tide. Blair knows how families work and knows the sorrow of families working poorly. He also learns the way tragedy can pull things together. His struggles with his wife and learning-disabled son are particularly moving. No one can teach someone to write with Blair's level of honesty and love."
— Paul Ingram, Prairie Lights Books, Iowa City, IA
Description
---
An exquisitely written memoir about the heartbreaks and ecstasies of marriage and fatherhood by a talented new writer from the University of Iowa MFA program. The anticipated debut of an original American voice, By the Iowa Sea is a wrenching, unsentimental account of the heartbreaks and ecstasies of marriage, fatherhood, and small-town life in the Midwest. After his first cross-country motorcycle trip, Joe Blair believed he had discovered his true calling. He would travel. He would never cave in to convention. He would never settle down. Fifteen years later, Joe finds himself living in Iowa, working as an air-conditioning repairman and spending his free time cleaning gutters, taxiing his children, and contemplating marital infidelity. "Our history," he writes, "gains more weight day by day. And the future seems more and more unlikely to be anything cool at all." Joe believes it would take an act of great faith or courage to revive in him the passion and promise that once seemed so easy to come by. What it takes, he discovers, is a disaster. When the Iowa River floods, transforming the familiar streets and manicured lawns of his neighborhood into a terrible and beautiful sea, he begins to question the path that led him to this place. Exquisitely observed and lyrically recounted, this is a compelling and often humorous account of an ordinary man's struggle to live an extraordinary life. Joe Blair lays bare the moving, hopeful story of a river that becomes an ocean and a love that is lost and found again, by the Iowa Sea.
About the Author
---
Joe Blair is a pipefitter living in Coralville, Iowa with his wife and four children. His essays have appeared in The New York Times, The Christian Science Monitor, and The Iowa Review.
Praise For…
---
"A memoirist with a poet's soul, [Blair] takes what is arguably the most mercilessly exploited natural resource in all of literature and replenishes it. Blair has an autistic son, Michael…and it is their love story that lends the tempest... and this memoir its observational virtuosity."

-New York Times Book Review


"Some memoirs you read for the feelings they inspire, and some you read to find out how in the heck they'll turn out. By the Iowa Sea manages to do both with an understanding of so-called ordinary life so raw and true you'll gasp, and a situation so pressing you'll tear through the pages. The writer's unflinching reflection about himself and his choices make this book."

-Oprah.com


"A beautifully written story about marriage, responsibility and caring for an autistic child."

-Bookpage


"Engrossing, thoughtful, startlingly honest, and, ultimately, hopeful."

-Iowa Press Citizen


"Blair put away his motorcycle and his dreams to do manual labor while supporting four children, one of whom is autistic. Rekindling a sense of purpose took something big: a terrible flood. Not a whiny work; fresh, plain-spoken, and down to earth. Definitely try."
--Library Journal




"A devastating flood provides the backdrop for Joe Blair's moving memoir about crisis and change. If you want to understand how a good man can resolve the conflict between his youthful dreams and his adult sense of duty, read this book. His honesty about the real challenges of marriage and parenting is startling in the best sense, and shot through with refreshing humor."
--Julie Metz, author of The New York Times bestselling memoir, Perfection



"Joe Blair's passion and courage are evident on each page of By the Iowa Sea. He is among those rare writers brave enough to risk everything for his work and the result is this hypnotic, electrifying book."
--Alexander Maksik, author of You Deserve Nothing



"Blair's thoughtful memoir displays the strengths and resilience of committed lovers in a tumultuous relationship."
--Publishers Weekly



"Joe Blair's voice is uncommonly perceptive, startlingly honest, and powerfully moving. This is eloquence born of pain, sharpened by humor, and burnished, finally, by understanding and redemption."
--Ethan Canin, author of Emperor of the Air and America, America


"By the Iowa Sea is a sometimes angry, often startling, and always riveting journey through infidelity, drinking, storms, work, beauty, and the simultaneous frustration and sublimity of raising a disabled child. Blair's writing is vivid, his subjects are heartbreaking, and his ending is flat-out gorgeous."
--Anthony Doerr, author of Memory Wall