Accidents of Marriage: A Novel (Hardcover)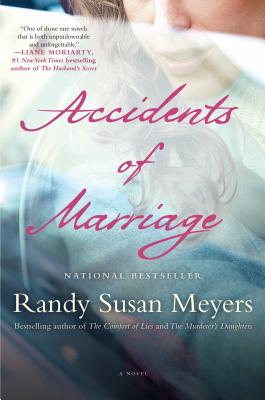 $26.25
This item is not currently available to order.
September 2014 Indie Next List
---
"When is the time when 'enough is enough?' Meyers deftly explores the issue of emotional abuse in her new novel. This is the story of Maddy and Ben and their three children. Maddy, a working mother, struggles to balance both career and family. Ben, a public defender, lives with a short fuse and drives the car that sends Maddy to the hospital in critical condition after a road rage encounter. Told from the points of view of Maddy, Ben, and Emma, the oldest sibling, Accidents of Marriage is an engrossing and provocative read."
— Fran Keilty, Hickory Stick Bookshop, Washington Depot, CT
Description
---
From the bestselling author of The Comfort of Lies, an engrossing look at the darker side of a marriage—and at how an ordinary family responds to an extraordinary crisis.

Maddy is a social worker trying to balance her career and three children. Years ago, she fell in love with Ben, a public defender, drawn to his fiery passion, but now he's lashing out at her during his periodic verbal furies. She vacillates between tiptoeing around him and asserting herself for the sake of their kids—which works to keep a fragile peace—until the rainy day when they're together in the car and Ben's volatile temper gets the best of him, leaving Maddy in the hospital fighting for her life.

Randy Susan Meyers takes us inside the hearts and minds of her characters, alternating among the perspectives of Maddy, Ben, and their fourteen-year-old daughter. Accidents of Marriage is a provocative and stunning novel that will resonate deeply with women from all walks of life, ultimately revealing the challenges of family, faith, and forgiveness.
About the Author
---
Randy Susan Meyers is the bestselling author of Waisted, Accidents of Marriage, The Comfort of Lies, The Murderer's Daughters, and The Widow of Wall Street. Her books have twice been finalists for the Mass Book Award and named "Must Read Books" by the Massachusetts Center for the Book. She lives with her husband in Boston, where she teaches writing at the Grub Street Writers' Center.
Praise For…
---
"Meyers puts a Boston family overwhelmed by a tragic accident under the literary microscope. Beautifully written, poignant and thought-provoking."

"The premise is familiar—a couple raising a family and accumulating grievances about marriage as they reach middle age. But this novel's unsparing look at emotional abuse and its devastating consequences gives it gravity and bite, while a glimpse into a physically damaged mind both surprises and fascinates."

"A complex, captivating tale. In Accidents of Marriage, Randy Susan Meyers explores a marriage undermined by one partner's rage and the other's complicity. Her painstaking description of both emotional abuse and brain injury are impressive."

"In successive, sensitively written chapters,Ben, Maddy, and Emma pour out their heartache and despair, eliciting compassion and high hopes from caring readers."

"A deft exploration of the borders of abuse and the aftermath of tragedy, the triumphs and disappointments of recovery, and the possibilities of faith and forgiveness."

"Accidents of Marriage is one of those rare novels that is both unputdownable and unforgettable. I just loved it—and I'll now read everything Randy Susan Meyers writes."
— Amazon Celebrity Pick, Liane Moriarty, NYT bestselling author of Big Little Lies

"Meyers writes compellingly; Maddy's recovery is detailed and wrenching, as are vivid portraits of the children's reactions to their family's turmoil."

"Randy Susan Meyers is at her perceptive best as she first presents the harrowing realities of a marriage on the rocks and then rips it all apart in one calamitous moment."

"Meyers deftly explores the effects of emotional abuse on both the marriage and the family as a whole."

"Meyers,whose background includes working with victims of domestic violence, skillfully examines how each character reacts to the intense pressure, some failing while others rise to the challenge."

"A page-turner about spousal abuse, with a decidedly different twist."

"Meyers insights are thought provoking."

"Meyers is quickly taking her place among the ranks of women's fiction authors who write big-issue novels that explore the inner lives of women in crisis without descending into melodrama or cliché. Readers who enjoy Jodi Picoult will want to add Meyers to their to-read list."

"In this beautifully written novel, Randy Susan Meyers traces how the repercussions of a car accident expose fissures and long-held resentments from the past that force these characters to question everything. This is a wise and penetrating book."
— Christina Baker Kline

"Randy Susan Meyers is a genius of the human heart, and Accidents of Marriage is a profound education on the complexities of love, imperfection, damage, and responsibility."
— Robin Black

"With the heart of a novelist and the tenacity of an investigative journalist, Meyers flawlessly depicts the evolution and consequences of emotional abuse. A master of perspective with an uncanny understanding of human nature, she has managed to make us empathize with every member of this damaged family."
— Brunonia Barry

"I read Accidents of Marriage in one day. Like Meyers' first two novels, this one—about a family paying a high price for rage and trying to reknit itself in the aftermath of the unthinkable—is compulsive reading. It's amazing how warm Meyers' writing is even as her stories grip you by the hand and don't let go."
— Jenna Blum

"What is forgivable? When does a marriage become too broken to fix? With wisdom, humor and great compassion, Meyers answers in a story you won't soon forget."
— Ann Bauer

"Randy Susan Meyers's third book proves what her first two books promised: she is a genius at providing glimpses into the hearts of families in trouble."

"A captivating tale dealing with the complex – and totally unputdownable –topic of emotional abuse."

"Madeline has to make a tough decision in this emotional read."

"...A poignant look into a real marriage and the consequences of emotional abuse for each member of the family."

"An incredibly accomplished and satisfying read, with an important message."
— Jane Green

"A bold and poignant look into the complicated, slippery world of what constitutes emotional abuse, Accidents of Marriage explores what happens when tragic circumstance forces one family to reexamine the dysfunctional dynamics that have long-defined them.."
— Amy Hatvany

"The intertwined traumas of emotional abuse and brain injury careen through every family member in this disturbing and deeply insightful story. Meyers captures the necessity and complexity of excavating the truth as the foundation of life moving forward."
— Janet Cromer

"This family's ordeal could not be moretimely or better rendered in this unsparing account."

"Many books are an absolute pleasure to read, but slip straight from your mind. Accidents of Marriage is one of those rare novels that is both unputdownable and unforgettable. I just loved it, and I'll now read everything Randy Susan Meyers writes."
— Liane Moriarty

"Randy Susan Meyers's second novel is sharp and biting, and sometimes wickedly funny...but it has a lot of heart, too. Meyers writes beautifully about a formerly good marriage ­— the simple joys of stability, the pleasures of veteran intimacy ­— and deftly dissects just how ugly things can get after infidelity. The battles these women fight take place on a small stage, yet they're anything but trivial: saving a marriage, making a meaningful career, learning to parent. In the end, thanks to Meyers's astute, sympathetic observation, we want these women to win."