Lavash: The bread that launched 1,000 meals, plus salads, stews, and other recipes from Armenia (Armenian Cookbook, Armenian Food Recipes) (Hardcover)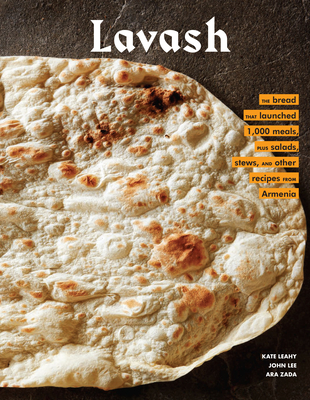 $24.95

Available in our Warehouse: Usually Ships in 3-8 Days
Description
---
An ode to Armenian food and culture, and the UNESCO-recognized bread of Armenia, Lavash.

This cookbook not only reveals how to make the ubiquitous and doable flatbread lavash, the UNESCO-recognized bread of Armenia, but also shares 60+ recipes of what to eat with it, from soups and salads to hearty stews paired with lots of fresh herbs. Stunning photography and essays provide an insider's look at Armenia, a small but fascinating country comprising dramatic mountains, sun-drenched fields, and welcoming people. With influences from the Middle East and the Mediterranean as well as from Russia, the food of Armenia is the next cuisine to explore for people who want to dig deeper into the traditions formed at the crossroads between the East and West.

Fans of cookbook best sellers like Yotam Ottolenghi's Jerusalem and Ottolenghi will love exploring the Mediterranean, Middle Eastern, and Russian influences in Lavash.

• For both armchair travelers and home cooks, this recipe book is as enticing in the reading as its recipes are to the palate
• With growing interest in fermentation and the medical benefits of a Mediterranean diet, Armenian food offers a new take on healthy cookbooks and cooking.
About the Author
---
Kate Leahy is an award-winning food writer, collaborator, and recipe developer. She lives in San Francisco.

Ara Zada is a chef, recipe developer, and television personality. He lives in Los Angeles.

John Lee is a food and lifestyle photographer who shoots regularly for the San Francisco Chronicle. He lives in San Francisco.
Praise For…
---
"Lavash takes readers on a colorful culinary journey to Armenia, past and present. From its investigation into the history of that part of the world to its vivid images and diverse recipes, this book explores what Armenian cuisine looks like today in a very authentic and beautiful way."—Marcus Samuelsson, award-winning chef, restaurateur, and co-owner of Red Rooster Harlem

"At last, Armenian food gets its due! Lavash takes us on a captivating journey through Armenia, sharing stories of this ancient land's history and people, along with the secrets of its remarkable cuisine. The flatbread recipes alone are worth the price of the book, but there's so much more revealed here—piquant salads, whole-grain porridges, and soothing soups and stews. This eye-opening book belongs on every library shelf and kitchen counter."—Darra Goldstein, Founding Editor of Gastronomica: The Journal of Food and Culture

"Lavash takes readers on a colorful culinary journey to Armenia, past and present. From its investigation into the history of that part of the world to its vivid images and diverse recipes, this book explores what Armenian cuisine looks like today in a very authentic and beautiful way."—Marcus Samuelsson, award-winning chef, restaurateur, and co-owner of Red Rooster Harlem

"At last, Armenian food gets its due! Lavash takes us on a captivating journey through Armenia, sharing stories of this ancient land's history and people, along with the secrets of its remarkable cuisine. The flatbread recipes alone are worth the price of the book, but there's so much more revealed here—piquant salads, whole-grain porridges, and soothing soups and stews. This eye-opening book belongs on every library shelf and kitchen counter."—Darra Goldstein, Founding Editor of Gastronomica: The Journal of Food and Culture