Just Between Us: Interactive Mother & Daughter Journal (Diary)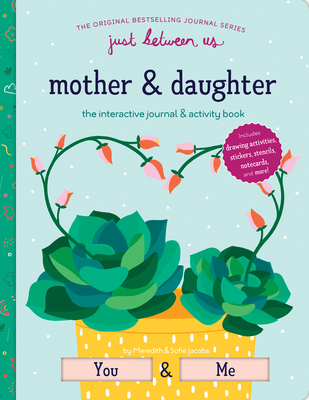 Description
---
This interactive follow-up to the beloved and bestselling Just Between Us: Mother & Daughter journal is packed with new ways to share and get creative together.

With sensitivity and thoughtfulness, this hands-on keepsake journal provides the space and encouragement for mother-daughter conversations. Co-written by a real-life mother-daughter team, Meredith and Sofie Jacobs, and featuring inspirational mantras, notecards, stickers, stencils, and certificates of appreciation alongside conversation-sparking prompts, this shared journal has all the essentials to cultivate shared respect and deep understanding in one of life's most important relationships.

As mothers and daughters, how much do we share with each other, and how might our lives be enriched if we dared to be more open? This eye-catching journal and keepsake is an ideal tool for initiating difficult and important conversations between mothers and their daughters. Perfect for moms and daughters who are already close, it is also a shared resource for any mother-daughter pair looking to deepen their relationship.

• BESTSELLING JOURNAL SERIES: First published over 10 years ago, Just Between Us: Mother & Daughter continues to be a bestseller! Now remade with new prompts, new art, and new interactive content, this journal is perfect for long-time fans and new journalers alike.
• MOTHER-DAUGHTER AUTHOR DUO: Meredith and Sofie Jacobs, the mother-daughter co-authors, started journaling together when Sofie was just nine years old. Today, they're still close, completing one another's sentences as they collaborate on special projects like this one! But they've also been in your shoes: they know both the joys and challenges of this most important relationship because they've lived it.
• INTERACTIVE CONTENT: Playful interactive content like sticker sheets, cardstock notecards, stencils, mantras, and certificates of appreciation add a whole new level of self-expression and communication. The journal includes writing prompts to get the conversation started and keep it going, as well as drawing activities to draw you out and keep it fun.
• FOR THE RELUCTANT JOURNALER: Perfect for a reluctant reader, writer, and journaler, it's full of drawing prompts and other interactive activities that don't require pages of writing which can sometimes feel like homework. Instead, engage with highly visual and interactive content, and play!
• SOCIO-EMOTIONAL LEARNING: This journal is filled with opportunities for socio-emotional learning, from prompts asking users to reflect on what matters to them and how they feel to stickers that reflect their daily emotions. In addition, it's filled with opportunities for gifting-from notecards to certificates to mantras-inviting users to listen to one another, and encourage one another.
• TIMELY: In a new age of feminism and #MeToo, mothers and daughters are eager to share more and uplift one another. This journal will facilitate those necessary conversations in fun, funny, and heartwarming ways by offering a safe space to be honest. Writing removes a layer of awkwardness by providing some distance, and will encourage vulnerability and truthfulness in those more reluctant to share.
• PERFECT GIFT: Perfect for Mother's Day gifting, as well as everyday gestures of appreciation and togetherness.

PERFECT FOR:

• Mothers and daughters
• Daughters looking for the perfect Mother's Day gift or everyday gift
• Mothers looking to build or maintain the bond they have with their daughter
• Fans of the original journal who are eager for new content
• Gift givers looking for a high-value interactive journal
• Anyone looking to promote socio-emotional learning
About the Author
---
Meredith Jacobs and Sofie Jacobs are the mother-daughter co-authors of the bestselling journal, Just Between Us.

Meredith Jacobs is the CEO of Jewish Women International and the former editor-in-chief of Washington Jewish Week. She is an award-winning columnist as well as the author of several books. She lives in Rockville, Maryland

Sofie Jacobs graduated from University of Michigan and the Columbia Publishing Course. She currently works for a literary agency in New York City, NY.