Storm Cloud: A Weather Predicting Instrument (General merchandise)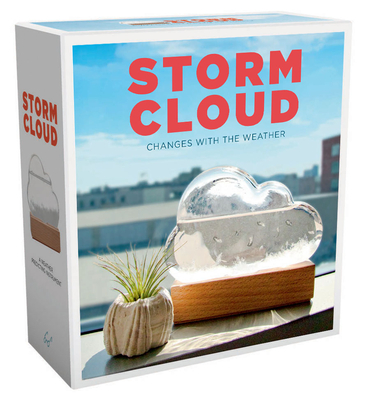 $29.95

Available in our Warehouse: Usually Ships in 3-8 Days
Description
---
Interesting to look at for many reasons, this eye-catching object shows what the weather has in store.
In the 1800s, during his voyage with Charles Darwin, Admiral Robert Fitzroy used and later popularized the storm glass, which promised to predict the weather. A beautiful twist on this classic device, the
Storm Cloud
is a fun way of seeing what the weather has in store. Filled with a special liquid that responds to changes in the atmosphere, the crystals within the cloud-shaped glass indicate whether it'll be fair, cloudy, rainy, windy, or stormy. Whether sitting on a windowsill or a desk, the
Storm Cloud
is irresistible décor for the curious-minded.
ENTERTAINING AND EDUCATIONAL: The Storm Cloud is as stylish and fun as it is informative. Place it on a shelf or table and marvel as it reveals each day's forecast.  
UNIQUE GIFT: This distinctive item makes a perfect gift for any daydreamer or nature lover.  
RAVE REVIEWS: With hundreds of five-star ratings, reviewers love the Storm Cloud. One person calls it a "great conversation piece" and another says it's "the best barometer EVER!"
Perfect for:
Design nerds, cloudspotters, and science buffs
Adding a touch of everyday wonder to any home or office space
Anyone interested in meteorology—children and adults alike!
About the Author
---
BITTEN DESIGN was founded by three people crazy about design. Once they were all bitten by the design bug, they formed Bitten in 2008 and have been turning fun ideas into delightful products ever since. Bitten is based in the Netherlands.