The Curious Cat Club Deck (Cards)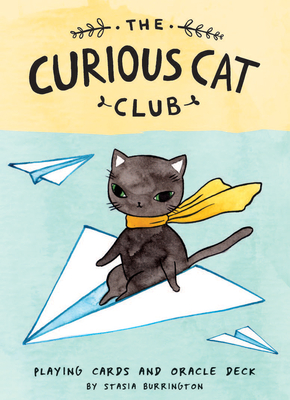 Description
---
It's all in the cards! This combination playing card and oracle deck features curious cats of all kinds, helping any cat lover discover their purrsonality and offer fortuitous feline advice. Are you the adventurous and inquisitive Space Cat? The free-spirited Paper Plane Cat? The booklet inside spells out what each card represents, allowing you to decode their very own feline fortune. This product also functions as a standard set of playing cards.

• DISCOVER YOUR PURR-SONALITY: Pick a card and use the enclosed booklet to determine your feline alter ego and tell your fortune. The cards also function as traditional playing cards!
• GREAT FOR CAT LOVERS OF ALL STRIPES: This combination oracle/playing card deck is full of strange and adorable cats rendered in charming ink and watercolor, and performing human activities from slurping ramen to exploring outer space. This collection of odd-(fur)-balls, with its witchy style, pop cultural elements and subtle Japanese influence, will enchant and delight cat lovers of all kinds!
• INCLUDES: 54 full-color playing cards in box with flap closure, plus explanatory booklet
About the Author
---
Stasia Burrington is an artist and illustrator whose passions lie in the arts (in all forms), experimental cooking, camping, theology and science fiction, big nerdy science books, coffee, and ice cream. She was born in Texas, grew up in Montana, and now lives and works in SeaTac, Washington, with her favorite man and two cats.
We appreciate your continued support!
If you would like to make a donation to help us through CLICK HERE.