Frisk Me (New York's Finest #1) (Mass Market)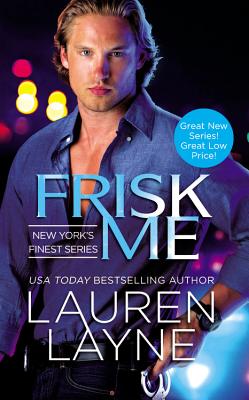 $6.60
This item is not currently available to order.
Description
---
Officer Luc Moretti had no idea that his dive into the East River would have him drowning in a media frenzy. No matter how many times he tells reporters he was just doing his job, they're determined to make him into NYC's newest hero. Coming from a long line of NYPD's finest, Luc knows that being a cop has nothing to do with headlines and viral videos, and he's more than ready to get back to life away from the cameras-until he meets the gorgeous but jaded journalist assigned to film a TV special on him . . .

Ava Sims may be the only woman in NYC who isn't in love with Officer Moretti. That's why she's going after the real story-to find out about the man behind the badge. Ava's determined to keep things strictly professional, but the more time she spends around Luc, even she has to admit there's something about a man in uniform . . . and she can't wait to get him out of his.
About the Author
---
Lauren Layne is the New York Times bestselling author of romantic comedies. She lives in New York City with her husband. A former e-commerce and web marketing manager from Seattle, Lauren relocated to Manhattan in 2011 to pursue a full-time writing career. Her first book was published in summer of 2013. Since then, she's written over two dozen books. When not writing, Lauren can be found at happy hour with her high school sweetheart, or shopping for a great pair of stilettos.
Praise For…
---
"Layne (the Redemption series) launches the New York's Finest contemporary romance series with this stellar example of the genre. Ava and Luc's sparks are immediate, and the evolution of their relationship-which starts with little common ground except a dedication to singlehood-is stimulating and realistic. They negotiate their professional and romantic interactions with banter that's clever but not self-satisfied, and their moment of truth feels warm and real. Fans of slightly gritty contemporaries will adore this"—Publishers Weekly (starred review)

"4 1/2 stars! The first in Layne's New York's Finest series is funny, delightfully steamy and deeply touching, setting the bar quite high. Layne creates protagonists who are fully realized and likable, ensuring that their individual journeys are as clever and moving as their romance, and her novels are always the better for it. A bustling, detailed setting and a stellar cast of supporting characters, particularly the hero's large and outspoken family, provide the perfect backdrop for her characters and keep expectations high for the rest of this soon-to-be-a-hit series."—RT Book Reviews

"Layne is hands down the queen of witty dialogue and sexy scenes. Frisk Me was a sensual combo of both that left me dying for more."—#1 New York Times bestselling author Rachel Van Dyken

"Frisk Me is a terrific love story--equal parts sweet and hot. Layne is a master of both sexual tension and the soul-satisfying HEA."

—USA Today bestselling author, Serena Bell

"Funny, intelligent and touching." --USA Today bestselling author Ruthie Knox on After the Kiss