The Frozen Chosen: The 1st Marine Division and the Battle of the Chosin Reservoir (Paperback)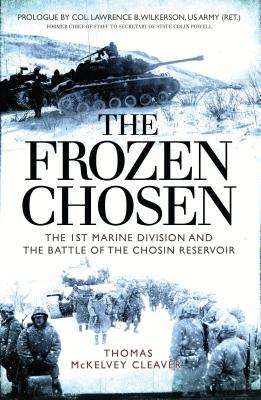 Description
---
The Frozen Chosen is an account of the breakout from the Chosin Reservoir in North Korea by the 1st Marine Division from November to December 1950, following the intervention of Red China in the Korean War. Fought during the worst blizzard in a century, it is considered by the United States Marine Corps to be "the Corps' finest hour." Fourteen Medals of Honor, a record for any American battle, and eighty-five Navy Crosses--many awarded in lieu of an original nomination for the Medal of Honor--attest to the intensity of the battle.

Based on first-person interviews from surviving veterans who came to be known as the "Frozen Chosen," this is the incredible story of heroism and bravery in the face of overwhelming odds, as a handful of Marines fought desperately against wave after wave of Chinese forces. Sometimes forced into desperate hand-to-hand fighting in intense cold, cut off from reinforcements, and with dwindling supplies and ammunition, the fighting retreat from Chosin marked one of the darkest moments for Western forces in Korea, it but would go on to resonate with generations of Marines as a symbol of the Marine Corps' dogged determination, fighting skill, and never-say-die attitude on the battlefield.
About the Author
---
Thomas McKelvey Cleaver has been a published writer for the past 40 years, with his most recent work being the best-selling Osprey titles The Frozen Chosen (2016), Pacific Thunder (2017), Tidal Wave (2018), Holding the Line (2019), MiG Alley (2019), and I Will Run Wild (2020). He is also the author of Aces of the 78th Fighter Group and F4F Wildcat and F6F Hellcat Aces of VF-2, as well as Fabled Fifteen: The Pacific War Saga of Carrier Air Group 15 and The Bridgebusters: The True Story of the Catch-22 Bomb Group. During his 30 years as a screenwriter in Hollywood, he wrote the cult classic The Terror Within and worked as a supervising producer on a number of TV and cable series. He served in the US Navy in Vietnam and currently lives in Encino, California.