Foreign Panthers: The Panzer V in British, Soviet, French and other service 1943–58 (New Vanguard #313) (Paperback)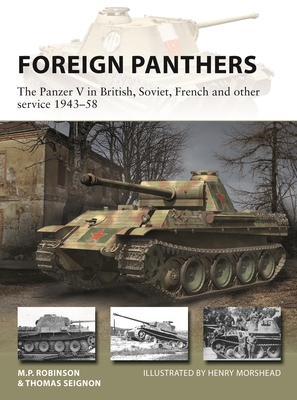 $19.00

Available in our Warehouse: Usually Ships in 3-8 Days
Description
---
The little-known career of Germany's Panther, perhaps the greatest tank of World War II, in foreign hands both during and after the war.

The Panther was arguably the most successful medium tank design of World War II, demonstrated by the number of Germany's enemies that used them after, and even during the war.

While some were used by the Western Allies, the Russians used the greatest number of captured Panthers against Nazi Germany, though they did not find much favor thanks to their mechanical unreliability and difficulty in acquiring spare parts. After the war, they were mostly passed on to satellite states such as Bulgaria and Romania. The French army also used them in significant numbers after the war with approximately 50 in service from 1946 to 1950, and they were a significant influence on future French tank design.
Using detailed artwork and contemporary photographs, this fascinating book tells the little-known story of the Panther tank in foreign hands in World War II and beyond.
About the Author
---
Simon Dunstan is a well-established author, film-maker and photographer in the field of military history, with several titles already published with Osprey. He specializes in armored warfare, and has written on this subject for two decades. His books have covered topics such as helicopter and armored warfare in Vietnam, the Challenger main battle tank, the British Guards and armored warfare in Korea. Simon lives and works in London.
Praise For…
---
"some fine artwork from Henry Morshead, which I think modellers will especially enjoy as they offer plenty of idea for those wanting to build a model Panther in an interesting and unusual set of colours and markings" - Robin Buckland, Military Model Scene

"Overall an excellent reference work on an interesting subject, useful for armour buff or modeller." - Army Rumour Service