Leyte Gulf 1944 (2): Surigao Strait and Cape Engaño (Campaign) (Paperback)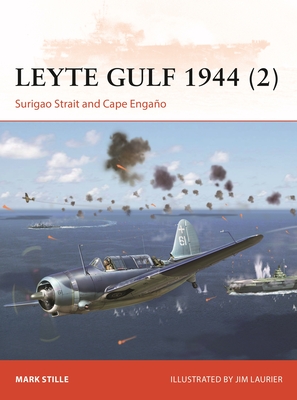 $24.00

Available in our Warehouse: Usually Ships in 3-8 Days
Description
---
This is the second volume in a two-part illustrated study of the October 23-26 Battle of Leyte Gulf, which resulted in a decisive defeat for the Japanese.

The Battle of Leyte Gulf-the largest naval battle in history-comprised four major actions conducted over the course of two days, plus several associated minor clashes. The size and complexity of this epic battle remains unmatched, with two United States Navy (USN) fleets (Third and Seventh) facing a much-reduced Imperial Japanese Navy (IJN), severely outnumbered and fatally lacking in airpower.

Complementing the first volume's coverage of the IJN's First Diversion Attack Force at the battles of the Sibuyan Sea and off Samar, this superbly illustrated second volume focuses on the forces supporting the main Japanese thrust. Naval expert Mark Stille reveals how the Japanese Main Body succeeded in its mission of luring the US Third Fleet to the north, but at a tremendous cost in the ensuing Battle off Cape Engaño. Also explored in full visual detail is the fate of the small detachment of seven IJN ships ordered to attack into Leyte Gulf through Surigao Strait in the south. The resulting Battle of Surigao Strait on October 25, 1944 would prove to be the last battleship duel in history.
About the Author
---
Mark Stille (Commander, United States Navy, retired) received his BA in History from the University of Maryland and also holds an MA from the Naval War College. He recently concluded a nearly 40-year career in the intelligence community, including tours on the faculty of the Naval War College, on the Joint Staff and on US Navy ships. He is the author of numerous Osprey titles focusing on naval history in the Pacific.

Jim Laurier is a native of New England and lives in New Hampshire. He attended Paier School of Art in Hamden, Connecticut, from 1974–78, and since graduating with Honours, he has been working professionally in the field of Fine Art and Illustration. He has been commissioned to paint for the US Air Force and has aviation paintings on permanent display at the Pentagon.