Herding Hemingway's Cats: Understanding how our genes work (Hardcover)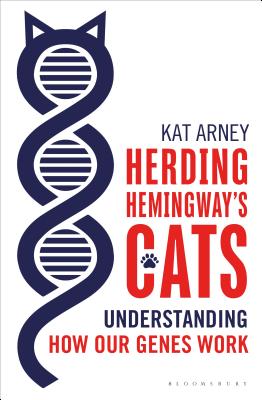 $29.70
This item is not currently available to order.
Description
---
The language of genes has become common parlance. We know they make our eyes blue, our hair curly, and they control our risks of cancer, heart disease, alcoholism, and Alzheimer's. One thousand dollars will buy you your own genome readout, neatly stored on a USB stick. And advances in genetic medicine hold huge promise.

We've all heard of genes, but how do they actually work? There are six feet of DNA inside every one of your cells; this encodes 20,000 or so genes, tangled into a mass of molecular spaghetti. This is the text of the cookbook of life, and hidden within these strands are the instructions that tell cells when and where to turn genes on or off.

In 1935, Ernest Hemingway was supposedly given Snow White, a six-toed cat who went on to father a line of similar offspring that still roam the writer's Florida estate. Scientists now know that the fault driving this profusion of digits lies in a tiny genetic control switch, miles away (in molecular terms) from the gene that "makes" toes. Researchers are discovering more about the myriad molecular switches that make sure genes are turned on at the right time and in the right place, and what happens when they don't work properly. This is allowing a four-dimensional picture of DNA to be built--a dynamic biological library, rather than static strings of code. Geneticist Kat Arney explores the intricacies of how, out of this seeming genetic chaos, life is created.
About the Author
---
Following a doctorate and subsequent research career in genetics, Kat Arney is now Science Communications Manager for Cancer Research UK, where she translates science into plain English to help people understand more about the disease. Kat is also a science writer and broadcaster, whose writing has appeared in the Guardian, Science, New Scientist, BBC Online and Al-Jazeera Online.

According to BBC America, Kat is one of the 'Top 10 Brits Who Make Science Sexy', and she regularly appears on national TV and radio shows, including Today, BBC Breakfast and Daybreak, talking about the latest cancer research. She has presented several BBC Radio 4 science documentaries and programmes in the Costing the Earth series, is a regular presenter with the Naked Scientists, and presents and produces the Naked Genetics monthly podcast.
Praise For…
---
"[Arney] delivers an alluring tale of science at its most humble and probing, at least as practiced by the company of skeptics and scientific investigators . . . A robust, bouncy, pellucid introduction to DNA and genetics." —starred review, Kirkus Reviews

"Writing in a breezy, irreverent style, Arney, a science journalist specializing in genetics, explores what is known about the inner workings of the genome. Her results are both fascinating and surprising." —Publishers Weekly

"The author is often highly amusing, and she knows her stuff . . . An intelligent and engaging look at human genetics." —Library Journal

"As readers look over the investigators' shoulders . . . Arney has well primed her readers to share the intellectual excitement sure to come when today's pioneers announce their findings." —Booklist

"Herding Hemingway's Cats will instantly turn you into the most interesting guest at any party--it's a joy to read and a masterclass in making the complex story of life accessible, entertaining and relevant." —Mark Stevenson, author of AN OPTIMIST'S TOUR OF THE FUTURE