When the Last Lion Roars: The Rise and Fall of the King of Beasts (Paperback)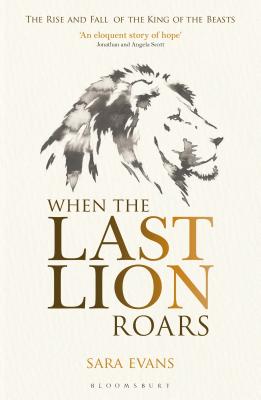 $18.00
This item is not currently available to order.
Description
---
The story of a continent losing its most charismatic predator at unprecedented speed.

The illegal killing of Cecil--a famous and magnificent black-maned Zimbabwean lion--by an American big-game hunter in 2015 sparked international outrage. More significantly, it drew the world's attention to the devastating plight of Africa's lions.

When the Last Lion Roars explores the historic rise and fall of the lion as a global species, and examines the reasons behind its catastrophic decline. Interwoven with vivid personal encounters of Africa's last lions, Sara Evans questions what is being done to reverse (or at least stem) this population collapse, and she considers the importance of human responsibility in this decline and, more crucially, in their conservation.

A century ago, there were more than 200,000 wild lions living in Africa. Today, with that population reduced by more than 90 per cent, many experts believe that without effective conservation plans, Africa's remaining wild lions could be completely wiped out by the mid-half of this century.

From the Lion Guardians in Kenya to the Living Walls of Tanzania, and the Hwange Lion Research Project in Zimbabwe, Sara meets both lions and their champions, people who are fighting to bring this iconic species back from the brink of extinction.
About the Author
---
Sara Evans is an award-winning writer, specializing in travel and wildlife. Her work has featured in numerous publications around the globe, including the Sunday Telegraph, Saturday Telegraph Magazine, The Independent on Sunday, The Australian, The Boston Globe, BBC Wildlife Magazine, and Africa Geographic.

A former speaker at Bradt travel-writing seminars, she is also the author of The Travel Industry Uncovered, and The Real Life Guide to Travel and Tourism. After spending much of her time travelling and looking for some of the world's most amazing animals, Sara now lives in the Fens with her family.
Praise For…
---
"Sara Evans documents the rise and fall of the lion in intimate detail; nothing misses her perceptive gaze. She does not judge, and is content to simply unearth the facts.

When the Last Lion Roars is a plea on behalf of the natural world, with the lion as her witness. It is an eloquent story of despair and hope – a stark reminder that nothing is sacred in a world of rampant population growth and vanishing wild spaces." —The Big Cat People, Jonathan and Angela Scott

"A hugely thorough overview concerning lions and their imminent disappearance from the natural world. Sara Evans shows where we stand after the global outrage over the killing of Cecil, and nurses a faint ember of hope for the continued survival of the king of beasts." —Dr Ross Barnett