Entering the Twofold Mystery: On Christian Conversion (Paperback)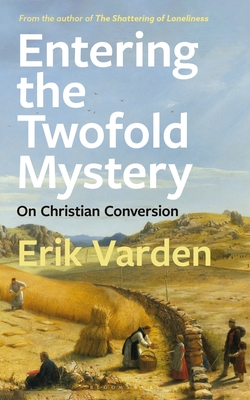 $24.00

Available in our Warehouse: Usually Ships in 3-8 Days
Description
---
In this follow-up to his critically acclaimed book The Shattering of Loneliness, Erik Varden provides a glimpse of the value of a monastic life and a Christian calling in our troubled modern age.

"Be whole and so be happy."--St. Bernard, founder of the Cistercian order

In the aftermath of a pandemic and the midst of political upheaval, Erik Varden has observed a growing interest in the monastic life – even among those who have no intention of entering a monastery. For in times of anguish and uncertainty, basic principles of monastic life have become particularly appealing.

Varden, Trappist monk and now Bishop, invites us to observe and learn from monastic life in our turbulent times. After a very personal introduction, he follows the Church year and seasons, always inspired by scriptural reading. The values he highlights include: tranquility; seeking peace; obedience; personal integrity; not continually passing judgement on others; asceticism as opposed to self-indulgence; the importance of generous hospitality; balance; and a life ordered to contemplation.

The teachings within the monastery offer simple, valuable lessons for readers of all creeds struggling to keep faith in an uncertain world.
About the Author
---
Erik Varden is a monk and bishop. Norwegian by birth, he was, before entering Mount Saint Bernard Abbey, a Fellow of St John's College, Cambridge. He has published several translations and scholarly monographs and is much in demand as a preacher, spiritual director and lecturer. In 2019 Pope Francis appointed him to the see of Trondheim. He is the author of The Shattering of Loneliness (Bloomsbury Continuum, 2018).
Praise For…
---
"I have little doubt that this will also become a spiritual bestseller following on from his previous much acclaimed book, The Shattering of Loneliness." —Dominic Walker, Church Times

"Varden's work is the fruit from a tree for the healing of the nations, from a monk who has his feet firmly and incarnationally on the ground." —Lutheran Theological Journal

"[Erik's] homilies are accessible – written in clear, standard English – but rich, sometimes breathtakingly, in their content." —Catholic Herald

"These [homilies] are as bracing and enlivening for the reader as they will have been for the congregations who heard them … Varden's combination of extensive learning, passionate engagement with the history and demandingness of Christian life, and the sharp focus of a keen mind, make his preaching something from which many will benefit." —The Tablet

"Varden's erudition in this edifying work of Catholic monasticism should earn him comparisons to Edith Stein. " —Publishers Weekly