Tween Hobo: Off the Rails (Hardcover)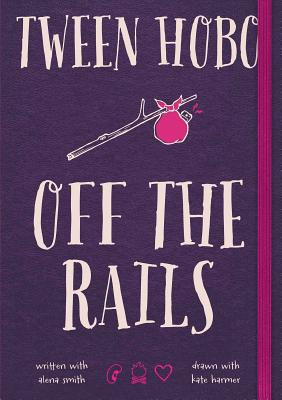 $17.99
This item is not currently available to order.
Description
---
A hilarious and irreverent illustrated book based on the popular Twitter feed (@tweenhobo), featuring a young spunky girl who packs up her glitter pens and sneaks out of math class one Monday afternoon to traverse the railroads in search of freedom, adventure, and her own personal obsession: Justin Bieber tickets.

Get ready to laugh and learn with the littlest hobo. She's only twelve years old, but a "hard twelve." You'll meet her friends: Stumptown Jim (a hero who tried his best to homeschool her on the road); Tin Cap Earl (who's always up for shooting a "Call Me Maybe" parody video in a graveyard); Toothpick Frank (who loves Pinterest); Salt Chunk Annie (a "woman of the night," whatever that means) and Hot Johnny Two-Cakes (who Tween Hobo swears she does NOT have a crush on).

Find out how she survives, thanks in part to the kindness of park rangers. You'll hear her take on major cultural events ("I go off a fiscal cliff every time I go near a Claire's."). And you'll enjoy beautiful hand-rendered illustrations that bring out the beauty in her words—just like how eyeliner makes a hobo's look really pop.

Often snarky and frequently ridiculous, this imaginative journal-like book includes maps, jokes, laughs, doodles, tips, hobo symbols ("House with a triangle on top means PIZZA PARTY!!!), games, stories, and more. So grab your iPhone and wrap it in a handkerchief, tie it to a stick, and let's roll!
About the Author
---
Alena Smith, the creator of Tween Hobo, is a playwright. Her work has been produced internationally, and her play The Bad Guys was made into an independent film. Alena lives in Los Angeles, where she is a staff writer for HBO's The Newsroom.

Kate Harmer is the Founder and Creative Director of Hum Creative, a Seattle-based design studio. She received an MFA from Rhode Island School of Design, and her work has been recognized by multiple design publications.