I Am Having So Much Fun Here Without You: A Novel (Hardcover)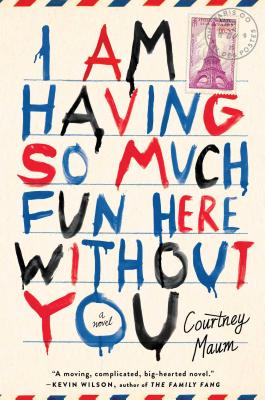 $27.29
This item is not currently available to order.
June 2014 Indie Next List
---
"Sometimes a book's characters grab you by the heart and make you ache with understanding and anticipation. You will laugh, wince, and relate as Maum's debut plunges you into a visceral experience with her characters that is both familiar and agonizing. Love, trust, and creative expression are explored as a French lawyer and a British artist grapple with whether love can be rebuilt after betrayal. Gripping!"
— Jesica Sweedler DeHart, Bookpeople Of Moscow, Moscow, ID
Description
---
In this reverse love story set in Paris and London, which Glamour hailed as one of the "10 Best Books to Add to Your Summer Reading List Right This Second," a failed monogamist attempts to woo his wife back and to answer the question: Is it really possible to fall back in love with your spouse?

Despite the success of his first solo show in Paris and the support of his brilliant French wife and young daughter, thirty-four-year-old British artist Richard Haddon is too busy mourning the loss of his American mistress to a famous cutlery designer to appreciate his fortune.

But after Richard discovers that a painting he originally made for his wife, Anne—when they were first married and deeply in love—has sold, it shocks him back to reality and he resolves to reinvest wholeheartedly in his family life…just in time for his wife to learn the extent of his affair. Rudderless and remorseful, Richard embarks on a series of misguided attempts to win Anne back while focusing his creative energy on a provocative art piece to prove that he's still the man she once loved.

Skillfully balancing biting wit with a deep emotional undercurrent, this "charming and engrossing portrait of one man's midlife mess" (Elle) creates the perfect portrait of an imperfect family—and a heartfelt exploration of marriage, love, and fidelity.
About the Author
---
Courtney Maum graduated from Brown University with a degree in Comparative Literature. She then lived in France for five years where she worked as a party promoter for Corona Extra, which had everything to do with getting a Visa, and nothing to do with her degree. Today, Maum splits her time between the Berkshires, New York City, and Paris, working as a creative brand strategist, corporate namer, and humor columnist. Visit her at CourtneyMaum.Tumblr.com or on Twitter @CMaum.
Praise For…
---
"Deftly exploring the daily challenges of marriage…this book provided me with a powerful reminder to appreciate my partner and the life that we've built together."—Real Simple, Best Book of 2014.

"Maum is funny: the kind of funny that is mean and dirty, with some good bad words thrown in. And she has a satiric eye for artsy pretension. . . . Enticing."
— New York Times Book Review

"Here we have the literary beach read — a book that pleases people who read two books a month and people who read two books a year. . . . The situation is timeworn and irresistible. The settings . . . are idyllic escapes, lushly drawn. . . . [Maum] is abundantly gifted — funny, open-hearted, adept at bringing global issues into the personal sphere . . . eventually creating that rare thing: a book for everyone."
— Washington Post

"Funny, touching and wise about love and vanity, this seductive debut might leave you rethinking some decisions of your own."
— People Magazine, People Picks Book of the Week

"A great story about love and marriage . . . Very enchanting, a good beach read."
— Today Show, Summer's Top Reads

"Courtney Maum bursts onto the scene with a hilarious and wise novel. . . . Richard Haddon is one of the more lovable male characters we've encountered this season. . . . You'll find yourself agog at Maum's masterful storytelling and dead-on descriptions."
— Glamour

"A charming and engrossing portrait of one man's midlife mess . . . Smart, fast-paced . . . You come for the plot, but you stay for the characters—especially Maum's flawed but likable and basically well-intentioned hero. Ultimately, this is the story of a man who would do anything to be a better person, and you will avidly wish for him to succeed."
— Elle

"A winning first novel of infidelity, forgiveness, and (maybe, just maybe) falling back in love."
— O Magazine, 15 Titles to Pick Up Now

"Funny and soulful . . . Filled with wise and revealing insights about the mature rewards embattled marriages provide. . . . [An] immensely appealing novel."
— The Wall Street Journal

"Maum is not only convincing, but emotionally aggrandizing in her exploration of the challenges of love and marriage. . . . The characters are so identifiable in their cringeable weaknesses and reasonable mistakes, that it is hard not to see oneself in them." —Brooklyn Daily Eagle

"[An] affably comic take on husbandly comeuppance, Courtney Maum's I Am Having So Much Fun Here Without You follows a once-sizzling British artist's hilariously misguided efforts to win back the love of his wife."
— Vogue

"Need[s] to be in your beach bag."
— Marie Claire

"Courtney Maum kills it."
— Vanity Fair

"Hit the beach (or the backyard) with [this] can't-put-down novel."
— New York Daily News

"Her portrait of marriage — much like her view of Paris — is clear-eyed and unsentimental. . . . Maum is hilarious, and the book manages to be cynical and heartfelt at the same time."
— Arizona Republic

"Dry-as-a-bone humor, a realistic marriage with all its pitfalls and joys, artists portrayed as real people instead of caricatures, and France! You don't need another perfect novel for summer–this is it." —BookRiot

"[A] witty novel about an artist galvanized by the sale of a painting to confront some tough questions about fidelity and marriage. It's got emotions, humor — and a really great title."
— The Miami Herald

"A very funny comedy of modern manners."
— Pittsburgh Post-Gazette

"Comic and yet still heartfelt. . . [A] warm, reflective novel."
— Miami Herald

"Maum's raw honesty about the hard work of long-term relationships, what is said and left unsaid, and her intimate knowledge of Paris make this a bittersweet yet comical read."
— Minneapolis Star-Tribune

"Maum is beautifully clear-eyed about the ways we fail each other and ourselves. . . . Zinging like Lorrie Moore . . . the narrative takes satisfyingly unexpected turns. . . . Rarely is a novel this funny quite so dark, but Maum takes that risk with substantial payoff. . . . This is a novel that remains stubbornly honest and optimistic about love."
— Brooklyn Rail

"Maum is awesome enough to cop to working as a Corona Extra party promoter in her official author bio, and funny enough to be the humor columnist for Electric Literature. Read this if your vacation plans sadly do not include hanging out with eccentric, upwardly mobile Euros."
— Nylon

"The characters and setting provide delightful fodder. . . . A brutally honest reckoning of the challenges of fidelity and family."
— Nerve

"The giant, thumping heart of Courtney Maum's debut novel beats loud and fast from its very first pages. . . . With wit and humor, Maum brings Richard's lopsided love story to life."
— Bustle.com

"Set in Paris and London, I Am Having So Much Fun Here Without You is precisely the type of book you should be reading this summer."
— Flavorwire.com

"Told with cutting wit and deep emotion, this is a heartfelt look at love and fidelity in the contemporary era."
— Fodors.com, "10 Books to Read on Your Summer Vacation"

"A very charming and romantic book."
— Buzzfeed, The Ultimate Summer Reading List

Best Book of 2014
— Real Simple

"An honest, staggeringly realized journey . . . Equally funny and touching, the novel strikes deep, presenting a sincere exploration of love and monogamy. These characters are complex, and their story reflects their confusion and desire. . . . An impressive, smart novel."
— Publishers Weekly (starred review)

"Maum's tale deftly captures a thirtysomething's sense of grief for the lost passion of youth and the search for something of depth to take its place. Writing with an authentic and affecting vulnerability, Maum considers sentimentality from every possible angle—interpersonal relationships, lofty idealism, and art—and each receives an equally unflinching examination. An unapologetically thoughtful novel told without melodrama and with a lot of heart."
— Booklist

"[A] realistic portrayal of a modern marriage that has lost its way . . . Solid, well-written."
— Library Journal

"Courtney Maum has crafted the story of a relationship so believable, so realistic that readers will be left wondering until the last minute whether the couple will reunite. . . . . The razor-sharp writing and character insights of I Am Having So Much Fun Here Without You suggest that readers have much to look forward to from this talented storyteller."
— BookPage

"Set mainly in Paris, this love story for grown-ups tells the story of a decent man who almost ruins his life and then goes to great lengths to restore his marriage. If your path to a happy marriage has been straight-forward, you may not appreciate this book – but it's perfect for the rest of us!"
— LibraryReads (June 2014 Pick)

"Sometimes a book's characters grab you by the heart and make you ache with understanding and anticipation. You will laugh, wince, and relate as Maum's debut plunges you into a visceral experience with her characters that is both familiar and agonizing. Love, trust, and creative expression are explored as a French lawyer and a British artist grapple with whether love can be rebuilt after betrayal. Gripping!"
— IndieNext (June 2014 Pick)

"This book is such a discovery. . . . It's kind of a love story in reverse. . . . Really gorgeously written."
— Leigh Haber, O Magazine Books Editor

"A gem of a novel about the tangles of love, regret, and hope that might or might not hold a marriage together. Courtney Maum's deft, beguiling debut charms with its wit and glows with compassion."
— Maggie Shipstead, author of Seating Arrangements

"Courtney Maum writes with such honesty and verve about how we struggle to deserve the people we love. Intensely personal and engagingly complex, I Am Having So Much Fun Here Without You is a moving, complicated, big-hearted novel."
— Kevin Wilson, author of The Family Fang

"Antic, sexy, satirically deft, and of course funny, this novel is also, on both the personal and political levels, smart about the bottomlessness of our capacities for self-sabotage, and moving about the fierceness of our yearning to make good."
— Jim Shepard, author of You Think That's Bad and Like You'd Understand, Anyway

"Maum's witty and insightful novel captures a lifetime of falling in and out of love. It's an investigation of marriage which often combines its utter clear-sightedness and its tremendous warmth in the very same sentence. So agile and fully realized."
— Ned Beauman, author of The Teleportation Accident