A Place of Darkness: The Rhetoric of Horror in Early American Cinema (Paperback)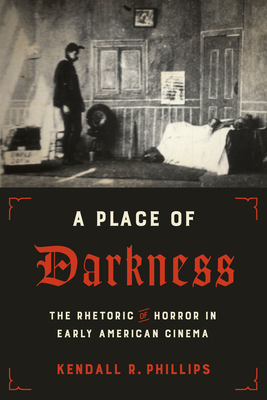 $40.43
This item is not currently available to order.
Description
---
Horror is one of the most enduringly popular genres in cinema. The term "horror film" was coined in 1931 between the premiere of Dracula and the release of Frankenstein, but monsters, ghosts, demons, and supernatural and horrific themes have been popular with American audiences since the emergence of novelty kinematographic attractions in the late 1890s. A Place of Darkness illuminates the prehistory of the horror genre by tracing the way horrific elements and stories were portrayed in films prior to the introduction of the term "horror film."
Using a rhetorical approach that examines not only early films but also the promotional materials for them and critical responses to them, Kendall R. Phillips argues that the portrayal of horrific elements was enmeshed in broader social tensions around the emergence of American identity and, in turn, American cinema. He shows how early cinema linked monsters, ghosts, witches, and magicians with Old World superstitions and beliefs, in contrast to an American way of thinking that was pragmatic, reasonable, scientific, and progressive. Throughout the teens and twenties, Phillips finds, supernatural elements were almost always explained away as some hysterical mistake, humorous prank, or nefarious plot. The Great Depression of the 1930s, however, constituted a substantial upheaval in the system of American certainty and opened a space for the reemergence of Old World gothic within American popular discourse in the form of the horror genre, which has terrified and thrilled fans ever since.
About the Author
---
Kendall R. Phillips is a professor of communication and rhetorical studies at Syracuse University. He is author of several books, including Projected Fears: Horror Films and American Culture and Dark Directions: Romero, Craven, Carpenter, and the Modern Horror Film.
Praise For…
---
Film is a telling lens for cultural history. . .[and] the book's central arguments make for great reading, as Phillips lays out the ways that proto-horror movies contained distinct and disparate rhythms (suspense, surprise, superstition), how the need for legitimacy led to literary adaptation as a horror standard, how movies developed alongside audiences to bring new immediacy to onscreen dread, and how shifting visions of the Other forced movies to constantly renegotiate what, exactly, people were meant to be afraid of.
— Genevieve Valentine

[A] thoughtful, thought-provoking study.
— Milwaukee Shepherd-Express

[A] fascinating read…gives a new context for understanding the horror in American cinema before 1931, going beyond a cinematic history.
— Sublime Horror

In addition to advancing a coherent and persuasive explanation for how the horror film genre came to be, Phillips is a gifted syncretist, pulling together the work of film historians, critics, and theorists on spiritualism, weird tales, the fantastic, and horror all in one volume...His love of cinema, and the horror film in particular, is infectious.
— Quarterly Journal of Speech

One of the strong points of [A Place of Darkness is] that it does not overly rely on theory or jargon…This accessibility opens the book up for a wide variety of readers, ranging from specialists in the field to undergraduate students to those who are simply fans of the genre. His novel approach to method, combined with straightforward prose, allows Phillips's A Place of Darkness to offer a little something for everybody.
— Film & History

With this monograph, Phillips has supplied a conclusive rhetorical history of early 'horror' films which is sensitive to the development of the cinematic art, and which in turn sheds light on the formation and crystallisation of the early American identity.
— Early Popular Visual Culture

[A Place of Darkness] effectively illuminates cultural movements that impacted American cinematic history.
— Popular Culture Studies Journal

A Place of Darkness is vital scholarship in times like these. It helps us understand and teach the history of culture, the rhetorical constitution of national identity, and the ways that the ideologies embedded in pop culture impact our personal identities and our choices about how to treat others. We need to hear what this book is telling us.
— Communication Review