Intimate Eating: Racialized Spaces and Radical Futures (Hardcover)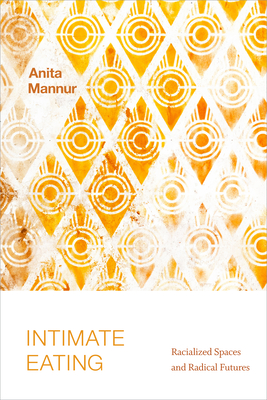 $129.94
This item is not currently available to order.
Description
---
In Intimate Eating Anita Mannur examines how notions of the culinary can create new forms of kinship, intimacy, and social and political belonging. Drawing on critical ethnic studies and queer studies, Mannur traces the ways in which people of color, queer people, and other marginalized subjects create and sustain this belonging through the formation of "intimate eating publics." These spaces--whether established in online communities or through eating along in a restaurant--blur the line between public and private. In analyses of Julie Powell's Julie and Julia, Nani Power's Ginger and Ganesh, Ritesh Batra's film The Lunchbox, Michael Rakowitz's performance art installation Enemy Kitchen, and The Great British Bake Off, Mannur focuses on how racialized South Asian and Arab brown bodies become visible in various intimate eating publics. In this way, the culinary becomes central to discourses of race and other social categories of difference. By illuminating how cooking, eating, and distributing food shapes and sustains social worlds, Mannur reconfigures how we think about networks of intimacy beyond the family, heteronormativity, and nation.
About the Author
---
Anita Mannur is Associate Professor of English at Miami University, author of Culinary Fictions: Food in South Asian Diasporic Culture, and coeditor of Eating Asian America: A Food Studies Reader.