Feltness: Research-Creation, Socially Engaged Art, and Affective Pedagogies (Paperback)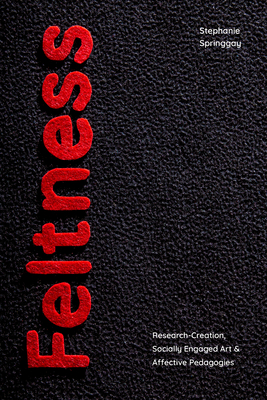 $33.74
This item is not currently available to order.
Description
---
Stephanie Springgay's concept of feltness--which emerges from affect theory, queer and feminist theory, and feminist conceptions of more-than-human entanglements--is a set of intimate practices of creating art based on touch, affect, relationality, love, and responsibility. In this book, she explores how feltness is a radical pedagogy that can be practiced with diverse publics, including children, who are often left out of conversations about who can learn in radical ways. Springgay examines the results of a decade-long project in which researchers, artists, students, and teachers participated in events in North American elementary, secondary, and post-secondary institutions. In projects that ranged from children learning to be critics and artists to university students experimenting with building "a public" through art, participants blended participatory art creation with academic research to address social justice issues. Springgay shows how feltness can redefine who is imagined to be capable of complex feeling, experiential learning, embodied practice, social engagement, and intimate care. In this way, feltness fosters learning that disrupts and defamiliarizes schools and institutions, knowledge systems, values, and the legibility of art and research.
About the Author
---
Stephanie Springgay is Director of the School of the Arts and Associate Professor at McMaster University, author of Body Knowledge and Curriculum: Pedagogies of Touch in Youth and Visual Culture, and coauthor of Walking Methodologies in a More-Than-Human World: WalkingLab.