Jewish New York: The Remarkable Story of a City and a People (Paperback)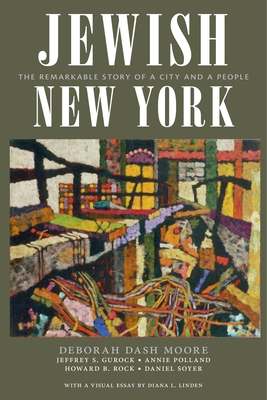 Description
---
The definitive history of Jews in New York and how they transformed the city
Jewish New York
reveals the multifaceted world of one of the city's most important ethnic and religious groups. Jewish immigrants changed New York. They built its clothing industry and constructed huge swaths of apartment buildings. New York Jews helped to make the city the center of the nation's publishing industry and shaped popular culture in music, theater, and the arts. With a strong sense of social justice, a dedication to civil rights and civil liberties, and a belief in the duty of government to provide social welfare for all its citizens, New York Jews influenced the city, state, and nation with a new wave of social activism. In turn, New York transformed Judaism and stimulated religious pluralism, Jewish denominationalism, and contemporary feminism. The city's neighborhoods hosted unbelievably diverse types of Jews, from Communists to Hasidim.
Jewish New York
not only describes Jews' many positive influences on New York, but also exposes their struggles with poverty and anti-Semitism. These injustices reinforced an exemplary commitment to remaking New York into a model multiethnic, multiracial, and multireligious world city. Based on the acclaimed multi-volume set
City of Promises: A History of the Jews of New York
winner of the National Jewish Book Council 2012 Everett Family Foundation Jewish Book of the Year Award, Jewish New York spans three centuries, tracing the earliest arrival of Jews in New Amsterdam to the recent immigration of Jews from the former Soviet Union.
About the Author
---
Deborah Dash Moore is Frederick G. L. Huetwell Professor of History and Professor of Judaic Studies at the University of Michigan. She is the author and editor of a number of books, including GI Jews: How World War II Changed a Generation and, with Howard Rock, Cityscapes: A History of New York in Images. Jeffrey S. Gurock is Libby M. Klaperman Professor of Jewish History at Yeshiva University. A prize-winning author, he has written or edited fifteen books in American Jewish history. Gurock has served as chair of the Academic Council of the American Jewish Historical Society.He is the author of the recently published Parkchester: A Bronx Tale of Race and Ethnicity. Annie Polland is Executive Director of the American Jewish Historical Society. She was previously Executive Vice President for Programs and Education at the Lower East Side Tenement Museum, where she authored, Landmark of the Spirit: The Eldridge Street Synagogue. Howard B. Rock is Professor of History Emeritus at Florida International University. He is the 2012 runner-up for the Dixon Ryan Manuscript Award presented by the New York State Historical Association, for Haven of Liberty: New York Jews in the New World, 1654-1865. He is also the author or editor of five other books. Daniel Soyer is professor of history at Fordham University. He is the author of Jewish Immigrant Associations and American Identity in New York, 1880-1939, and editor of several other books.
We appreciate your continued support!
If you would like to make a donation to help us through CLICK HERE.