Society Without God, Second Edition: What the Least Religious Nations Can Tell Us about Contentment (Paperback)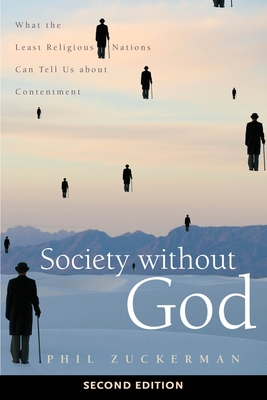 $40.50

Available in our Warehouse: Usually Ships in 3-8 Days
Description
---
An updated edition showcasing the social health of the least religious nations in the world
Religious conservatives around the world often claim that a society without a strong foundation of faith would necessarily be an immoral one, bereft of ethics, values, and meaning. Indeed, the Christian Right in the United States has argued that a society without God would be hell on earth. In
Society without God, Second Edition
sociologist Phil Zuckerman challenges these claims. Drawing on fieldwork and interviews with more than 150 citizens of Denmark and Sweden, among the least religious countries in the world, he shows that, far from being inhumane, crime-infested, and dysfunctional, highly secular societies are healthier, safer, greener, less violent, and more democratic and egalitarian than highly religious ones.
Society without God
provides a rich portrait of life in a secular society, exploring how a culture without faith copes with death, grapples with the meaning of life, and remains content through everyday ups and downs. This updated edition incorporates new data from recent studies, updated statistics, and a revised Introduction, as well as framing around the now more highly developed field of secular studies. It addresses the dramatic surge of irreligion in the United States and the rise of the "nones," and adds data on societal health in specific US states, along with fascinating context regarding which are the most religious and which the most secular.
About the Author
---
Phil Zuckerman is the author of several books, including What It Means to be Moral (Counterpoint, 2019) The Nonreligious (Oxford, 2016), Living the Secular Life (Penguin, 2014), Faith No More (Oxford, 2012), and Society Without God (NYU, 2008), and the editor of several volumes, including The Oxford Handbook of Secularism (2016) and The Social Theory of W.E.B. Du Bois (2004). He is a Professor of Sociology at Pitzer College, and the founding chair of the nation's first Secular Studies Program. He blogs for Psychology Today. He lives in Claremont, California, with his wife and three children.