The Elephant in the Spring: Celebrating Similarities-for Interfaith Families (Paperback)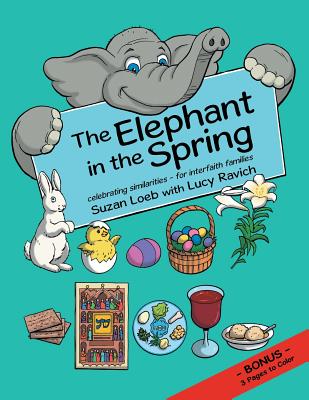 $18.69

Available in our Warehouse: Usually Ships in 3-8 Days
Description
---
The Elephant in the Spring
celebrating similarities - for interfaith families
Each spring, adults and children alike celebrate special holidays. Some celebrate Easter. Others observe Passover. But what if you live in a household that celebrates both?
The Elephant in the Spring uses poetry and illustrations to help readers and their families recognize the similarities of some traditions observed and honored during Easter and Passover. Children in interfaith families will feel more included and special. The Elephant in the Spring also raises awareness and understanding in all children.
The Elephant in the Spring is the perfect book for interfaith families who celebrate both seasonal holidays. Great fun for the whole family
-Alli West, Program Director of Connect
We love The Elephant in the Room and are so excited to add this new book to our collection. Our children will be raised with both holidays and these books represent what we hope to impart to them. Our goal is to blend without compromising our core values and these books will be of great help to us and our family.
-Bari & Alex
We are a two-generational interfaith family. We taught our children, and now our grandchildren, what we always believed: respect for other religions is the basis for peace, love and happiness. The Elephant in the Spring ... promotes understanding and makes children in interfaith families feel special. These books are much needed in our diversified world.
-Paula & Rick