Adaptive Church: Collaboration and Community in a Changing World (Hardcover)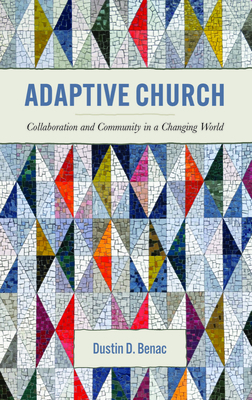 $76.99

Available in our Warehouse: Usually Ships in 3-8 Days
Description
---
Christian organization, education, and leadership are changing. Headlines note rising religious disaffiliation ("the Nones"), moral failures by religious leaders, and the mounting crisis for religious education. Research on congregations, Christian higher education, and theological education also paints a dismal picture: declining engagement and growing fragility. These trends have changed the landscape that surrounds Christian thought and practice, but the story of local communities presents a more complex portrait: communities are also coalescing around vitality, wisdom, and hope.
Adaptive Church explores what it takes for communities of faith to respond to uncertainty and shifting organizational environments. Based on fifty-two interviews and four years of empirical work, Dustin Benac charts a theological paradigm for collaboration and community in a changing world. He pioneers an interdisciplinary method that identifies the ecclesial ecology as the primary site to discern how Christian communities and leaders adapt to mounting challenges. Moreover, he provides the first in-depth analysis of a novel form of organizing religious life--a "hub"--by telling the story of how collaborative partnerships are creating new structures of belonging in the Pacific Northwest. Neither megachurches nor denominations, these hubs are networks that anchor religious life within a particular community and facilitate webs of connection across Christian institutions. Illumined by wisdom drawn from the Christian tradition, they pursue a particular way of life, one sustained by six complementary forms of leadership that express the possibility of collaboration and community in a changing world.
Benac contributes to a new and emerging field at the intersection of practical theology, organizational theory, sociology of religion, and leadership studies. For leaders and communities facing uncertainty, Adaptive Church provides a template for change within and beyond the forms that have historically guided Christian organization, education, and leadership.
About the Author
---
Dustin D. Benac is Visiting Assistant Professor of Practical Theology at Baylor University's George W. Truett Theological Seminary.