Blackbirds (Miriam Black #1) (Paperback)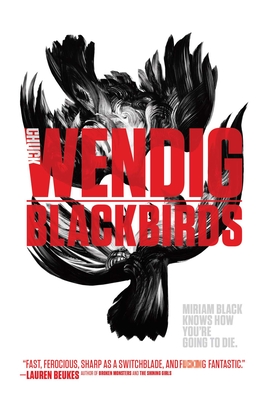 Other Books in Series
This is book number 1 in the Miriam Black series.
Description
---
The first book in the Miriam Black series: "A sassy, hard-boiled thriller with a paranormal slant" (The Guardian) about a young woman who can see the darkest corners of the future.

Miriam Black knows how you're going to die. This makes her daily life a living hell, especially when you can't do anything about it, or stop trying to. She's foreseen hundreds of car crashes, heart attacks, strokes, and suicides. She merely needs to touch you—skin to skin contact—and she knows how and when your final moments will occur. Miriam has given up trying to save people; that only makes their deaths happen. But when she hitches a ride with Louis Darling and shakes his hand, she sees in thirty days that Louis will be murdered while he calls her name— Louis will die because he met her, and Miriam will be the next victim. No matter what she does she can't save Louis. But if she wants to stay alive, she'll have to try.

"Think Six Feet Under co-written by Stephen King and Chuck Palahniuk" (SFX), and you have Blackbirds: a visceral, exciting novel about life on the edge.
About the Author
---
Chuck Wendig is a novelist, screenwriter and game designer. He's the author of many novels, including but not limited to: Blackbirds, Atlanta Burns, Zer0es, and the YA Heartland series. He is the author of the upcoming Star Wars: Aftermath, and is co-writer of the the Emmy-nominated digital narrative Collapsus. He was a finalist for the John W. Campbell award for Best New Writer. He currently lives in the forests of Pennsyltucky with wife, son, and red dog.