Star-Crossed (Hardcover)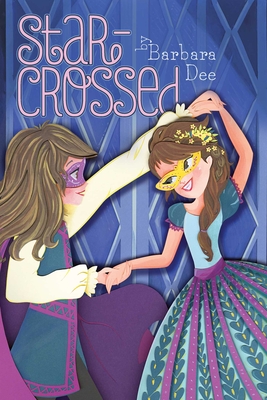 $20.89
This item is not currently available to order.
Description
---
"Star-Crossed delighted me! Barbara Dee has a light touch and a pitch-perfect middle school voice. This book will have you laughing and groaning in sympathy with crush-addled Mattie and eagerly turning pages. Mattie and her classmates charmed me with their kindness, their humor, their uncertainty, their devotion to one another and to Shakespeare! Barbara masterfully sprinkles the bard's words over the narration and stirs the troubles of Romeo and Juliet into the plot. And those Shakespearian insults! Be sure to read Star-Crossed or you'll miss out." —Gail Carson Levine, author of Ella Enchanted

Mattie is chosen to play Romeo opposite her crush in the eighth grade production of Shakespeare's most beloved play in this Romeo and Juliet inspired novel from the author of Truth or Dare.

Mattie, a star student and passionate reader, is delighted when her English teacher announces the eighth grade will be staging Romeo and Juliet. And she is even more excited when, after a series of events, she finds herself playing Romeo, opposite Gemma Braithwaite's Juliet. Gemma, the new girl at school, is brilliant, pretty, outgoing—and, if all that wasn't enough: British.

As the cast prepares for opening night, Mattie finds herself growing increasingly attracted to Gemma and confused, since, just days before, she had found herself crushing on a boy named Elijah. Is it possible to have a crush on both boys AND girls? If that wasn't enough to deal with, things backstage at the production are starting to rival any Shakespearean drama! In this sweet and funny look at the complicated nature of middle school romance, Mattie learns how to be the lead player in her own life.

"Barbara Dee's Star-Crossed is a love story, a rallying cry for girl-power, and a Shakespeare lover's dream come true. When I finished reading, I had a huge smile on my face and a lightness in my heart." —Nora Raleigh Baskin, author of Nine, Ten: A September 11 Story

"Star-Crossed takes the drama, humor, friendships, misunderstandings, and romance of Romeo and Juliet and transforms them perfectly to the middle school stage. One word about this honest, heartfelt middle grade novel for the theater geek in each of us? Encore!" —Donna Gephart, author of Lily and Dunkin

"Star-Crossed by Barbara Dee cleverly draws from Romeo and Juliet, providing readers with an insightful introduction to Shakespeare while exploring the complexities of young love. Readers will root for this relationship." —Ami Polonksy, author of Gracefully Grayson
About the Author
---
Barbara Dee is the author of twelve middle grade novels including Violets Are Blue, Haven Jacobs Saves the Planet, My Life in the Fish Tank, Maybe He Just Likes You, Everything I Know About You, Halfway Normal, and Star-Crossed. Her books have earned several starred reviews and have been named to many best-of lists, including The Washington Post's Best Children's Books, the ALA Notable Children's Books, the ALA Rise: A Feminist Book Project List, the NCSS-CBC Notable Social Studies Trade Books for Young People, and the ALA Rainbow List Top Ten. Barbara lives with her family, including a naughty cat named Luna and a sweet rescue hound named Ripley, in Westchester County, New York.
Praise For…
---
"A sweet story of young love amid middle school theatrics...Readers cannot but help root for Mattie as she discovers bravery she never gave herself credit for, both onstage and in life."
— Kirkus Reviews

"A sweet coming-out story for junior high readers. The clever Shakespeare content is a bonus. Verdict: A fine choice for middle school libraries in need of accessible LGBTQ stories, and a great option for students reading or performing Romeo and Juliet"
— School Library Journal

Star-Crossed delighted me! Barbara Dee has a light touch and a pitch- perfect middle school voice. This book will have you laughing and groaning in sympathy with crush-addled Mattie and eagerly turning pages. Mattie and her classmates charmed me with their kindness, their humor, their uncertainty, their devotion to one another and to–Shakespeare! Barbara masterfully sprinkles the bard's words over the narration and stirs the troubles of Romeo and Juliet into the plot. And those Shakespearian insults! Be sure to read Star-Crossed or you'll miss out."
— Gail Carson Levine, author of Ella Enchanted

"Star-Crossed takes the drama, humor, friendships, misunderstandings and romance of Romeo & Juliet and transforms them perfectly to the middle school stage. One word about this honest, heartfelt middle grade novel for the theater geek in each of us? Encore!"
— Donna Gephart, author of Lily and Dunkin

"Star-Crossed by Barbara Dee cleverly draws from Romeo and Juliet, providing readers with an insightful introduction to Shakespeare while exploring the complexities of young love. Readers will root for this relationship."
— Ami Polonksy, author of Gracefully Grayson

"Barbara Dee's Star-Crossed is a love story, a rallying cry for girl-power, and a Shakespeare lover's dream come true. When I finished reading, I had a huge smile on my face and a lightness in my heart."
— Nora Raleigh Baskin, author of Nine, Ten: A September 11 Story

Mattie is excited when her favorite English teacher, Mr. Torres, announces that their eighth grade play production will be Romeo and Juliet. As the class studies the play together, Mattie really connects with the characters and their speeches. When the male lead drops out of the play, Mattie steps up to play the part of Romeo. Things become complicated as Mattie develops a crush on her Juliet co-star, Gemma Braithwaite. Gemma is pretty, smart, and talented, and Mattie just can't figure out what to do about a crush on a girl. It's a good thing that Mattie has her best friends, a caring sister, and supportive parents to help her work through her complicated feelings. The events of the story playfully mirror the events of Romeo and Juliet. As Mr. Torres teaches his students to understand the Shakespearean text, Mattie finds she can apply what she learns to her own life's difficulties. This is a sweet look at unexpected first love.

Recommended


— School Library Connection