Frozen: A Pop-Up Adventure (Hardcover)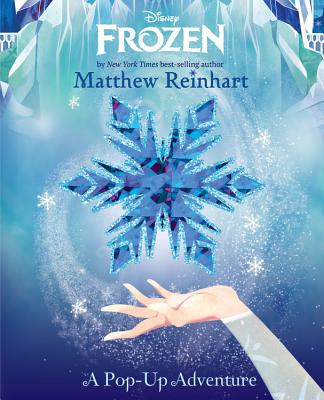 Description
---
Featuring nearly 20 pop-ups from the New York Times best-selling author, artist, and pop-up master, Matthew Reinhart, this breathtaking work of art revisits the enduring story of Frozen.
Elsa and Anna's remarkable adventure lives on in a magnificent display of paper engineering and artistic devotion. Frozen Pop-Up is a vibrant tribute to these beloved characters and teaches readers of all ages to let it go.

About the Author
---
Matthew Christian Reinhart attended Pratt Institute in Brooklyn as an industrial design major (concentrating in toy design). Pratt was fantastic experience for him, but his initial dreams of being a toy designer soon transformed into paper engineer. After working with Robert on books like The Wonderful Wizard of Oz, A B C Disney, and Movable Mother Goose. Matthew made his first big break into the pop-up world with The Pop Up Book Of Phobias. Many books collaborations have followed, including a trilogy of New York Times best-selling Encyclopedia Prehistorica and the following series Encyclopedia Mythologica with Robert Sabuda, along with Mommy?, co-authored with the renowned Maurice Sendak and Brava Strega Nona with the ageless Tomie DePaola. His solo pop-up books include The Ark, Animal Popposites, The Jungle Book, Cinderella, The Pop-Up Book of Nursery Rhymes, and STAR WARS: Pop-Up Guide to the Galaxy. He continues to work and live in New York City, cutting, taping and folding paper into pop-up masterpieces.
Praise For…
---
PRAISE FOR DISNEY*PIXAR: A POP-UP CELEBRATION

"Matthew Reinhart is a master of pop-up books, and this celebration of Pixar is a treat for fans. The book is quite large, and even though there are only 5 spreads in the book, each of them includes several pop-ups. . . . Finally, each feature film gets its own pop-up, and it's always amazing how much springs out of these seemingly tiny squares. One of my favorites is the pop-up for Inside Out, which has Riley's head in 3D-peering through her pupils reveals the emotions sitting at their control panel inside. Each image shows an iconic moment from a film. If you love Pixar films as much as I do, you'll have fun marveling at Reinhart's masterful paper sculptures."—Geek Dad

PRAISE FOR DISNEY*PIXAR: A POP-UP CELEBRATION

"Matthew Reinhart keeps creating the most wonderful and luxury Disney pop-up titles. We can now add Pixar: A Pop-Up Celebration to the list. With five spreads and four movies represented in every spread, all Pixar movies are covered in this book. At first, you may think, where are all the big pop-ups? But here comes the fun part: the pop-ups hidden behind the side flap covers are so advanced, they all could be used as bigger pop-up designs. But that would make a 20 pages pop-up book. So this clever solution solves the problem and gives room for all movies in one book. . . . We keep saying this about almost every Reinhart book but it's unbelievable that Matthew did all the artwork himself. Imagine how much work it must be to design both the pop-ups and artwork. The typical Reinhart style of watercolor textures and cut-out artwork fits the world of Pixar perfectly!"—Best Pop-Up Books