Holiday Magic at the Disney Parks: Celebrations Around the World from Fall to Winter (Disney Editions Deluxe) (Hardcover)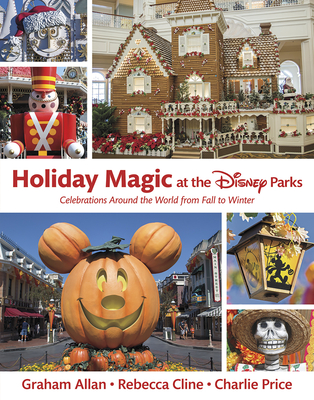 $60.00
Available in our Warehouse: Usually Ships in 3-8 Days
Description
---
This deluxe jacketed hardcover is visual storytelling at its best. Almost 1,900 photographs (two-thirds of them taken just for this book) showcase Disney's special menu offerings, decorating details from amazing artists and designers, and the most significant historical holiday events.
A harmonic trio of researchers, writers, and photographers logged more than 180,000 miles visiting every Disney park and resort across the globe, personally documenting the holiday installations through eighty thousand photographs and, wherever possible, meeting the talented and endlessly passionate artisans behind it all.
With twelve theme parks and dozens of resort hotels, plus numerous cruise ships, dining and shopping districts, and more than six decades of holiday experiences, there are a lot of pumpkin treatments and ornate trees to reflect upon. (The smallest holiday tree at a Disney property is just four inches high, while the very tallest reaches up to seventy feet.) And each decoration is chosen carefully to fit within a story and is expertly placed on its tree or garland by craftspeople backstage. The decor is installed onstage, maintained, and, ultimately, disassembled by technicians before it is once again cleaned, prepared, and stored in vast warehouses. . .till next year's event. The stories and contributions from so many unsung Cast Members (often hard at work at hours of the night when others are asleep) fill these pages, along with the joys of Halloween, Christmas, Hanukkah, and New Year celebrations. Time to join the party!
Searching for that perfect gift for the Disney theme park fan in your life? Explore more archival-quality books from Disney Editions: • The Disney Monorail: Imagineering a Highway in the Sky • Walt Disney's Ultimate Inventor: The Genius of Ub Iwerks • One Day at Disney: Meet the People Who Make the Magic Across the Globe • Marc Davis in His Own Words: Imagineering the Disney Theme Parks • Yesterday's Tomorrow: Disney's Magical Mid-Century • Eat Like Walt: The Wonderful World of Disney Food • Maps of the Disney Parks: Charting 60 Years from California to Shanghai • The Haunted Mansion: Imagineering a Disney Classic • Poster Art of the Disney Parks
About the Author
---
As a leader in the digital transformations of the motion picture and television businesses (and as an advocate for the care and preservation of its past), GRAHAM ALLAN has enjoyed many opportunities to expand the reach of Disney's creative legacy. By day he focuses on the production of animation and visual effects, digital media, intellectual property technologies, and the development of new consumer experiences. After hours he is a writer for Disney twenty-three magazine and the D23 website. He has also produced numerous Disney Parks and Resorts scavenger hunts and trivia challenges, both for Cast Members and fans. Graham's keen passions for travel and photography came in very handy in the epic quest to capture all of Disney's holiday magic around the world.
REBECCA CLINE joined The Walt Disney Company in 1989, and became a member of the staff of the Walt Disney Archives in 1993. Today, as director of the Archives, Becky is charged with collecting and preserving all aspects of Disney history and making the material available to researchers from all areas of The Walt Disney Company, as well as to historians, writers, documentarians, and fans around the world. Her many responsibilities include maintaining and conserving the Archives' collections of historical documents, artwork, character merchandise, costumes, props, and memorabilia. She is also the coauthor of The Walt Disney Studios: A Lot to Remember (2019).
CHARLIE PRICE has been visiting Disneyland since before he could even walk. During his tenure at The Walt Disney Company, Charlie has also worked at Disneyland and within the Disney Consumer Products and Disney Television Animation divisions. An avid Disney fan and researcher, he has translated his passion into writing books for Disney Editions and magazine comics for Disney Publishing Worldwide.



Praise For…
---
". . . If you're staying close to home this holiday season, you can experience Christmas at Disney by flipping through the nearly 400 pages in Holiday Magic at the Disney Parks: Celebrations Around the World from Fall to Winter -- preferably near a warm fireplace. . . ."—Travel + Leisure<br>

"This behemoth coffee table tome is packed with more than 1,900 stunning photos. . . A must-have for Disney parks history buffs."—Attractions Magazine

"This heavyweight coffee table book was put together by professional archivists--and you can tell, because it's the most comprehensive of the Disney Editions publications we've ever seen. It's a wonderful way to preserve one of the most beloved aspects of Disney parking-going."—The Frommer's Gift Guide for 2020

"To say it is a good read is really an understatement. It is one I look forward to revisiting throughout the fall and winter as there is just so much to absorb. It is very easy for me to give a solid hat tip to this book. It is one that every Disney fan will want and would make a great Christmas present!"—DAPS MAGIC
We appreciate your continued support!
If you would like to make a donation to help us through CLICK HERE.