Mennonites in the Russian Empire and the Soviet Union: Through Much Tribulation (Tsarist and Soviet Mennonite Studies) (Paperback)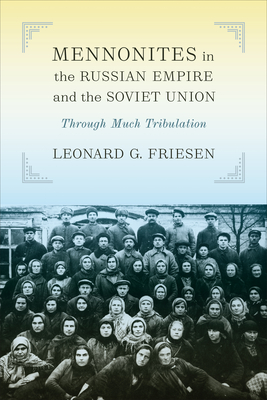 Description
---
Mennonites in the Russian Empire and the Soviet Union is the first history of Mennonite life from its origins in the Dutch Reformation of the sixteenth century, through migration to Poland and Prussia, and on to more than two centuries of settlement in the Russian Empire and the Soviet Union.
Leonard G. Friesen sheds light on religious, economic, social, and political changes within Mennonite communities as they confronted the many faces of modernity. He shows how the Mennonite minority remained engaged with the wider empire that surrounded them, and how they reconstructed and reconfigured their identity after the Bolsheviks seized power and formed a Soviet regime committed to atheism.
Integrating Mennonite history into developments in the Russian Empire and the USSR, Friesen provides a history of an ethno-religious people that illuminates the larger canvas of Imperial Russian, Ukrainian, and Soviet history.