Fiske Countdown to College: 41 To-Do Lists and a Plan for Every Year of High School (Paperback)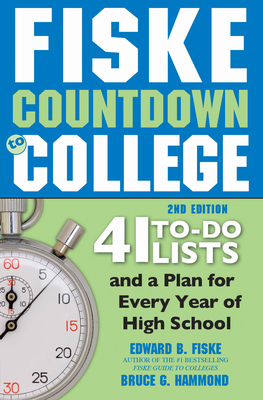 Description
---
Unique, simple approach to the complicated college prep process, from the leading authority in college admissions.
Getting ready for college is a complicated and confusing process — how do you know when to take the SAT? When do you start applying to schools? What classes should you be taking to help prepare you for college-level work? Is there anything you should do before high school?
Fiske Countdown to College is a comprehensive collection of simple, easy-to-use checklists that spell out your road map for each year of high school and make preparation for college a breeze. There are 28 "to-do" lists for parents and students, ten "don't" lists, three "top 10" lists, and two glossaries, divided by year, that walk you through high school to college. Quotes from students, parents, and counselors offer advice and support from people who've been through all of this before.
About the Author
---
Edward B. Fiske is the founder and editor of the Fiske Guide to Colleges. A former Education Editor of the New York Times, Fiske is known around the world for his award-winning writing on topics ranging from trends in American higher education to school reform in Southeast Asia, New Zealand and South Africa.
The guide was established in 1982 when, covering higher education for the Times, Fiske sensed the need for a publication that would help students and parents navigate the increasingly complex college admissions scene. The guide, an annual publication, immediately became a standard part of college admissions literature and it is now the country's best-selling college guide.
Fiske has teamed up with his wife, Helen F. Ladd, a professor at Duke University, on several major international research projects regarding the development of education in various countries. Together, they are co-editors of the Handbook of Research in Education Finance and Policy, the official handbook of the American Education Finance Association. Fiske's journalistic travels have taken him to more than 60 countries on behalf of the U.S. Agency for International Development, UNESCO and the Asia Society.
Born in Philadelphia, Fiske graduated from Wesleyan University summa cum laude, and received master's degrees in theology from Princeton Theological Seminary and in political science from Columbia University. He is a regular contributor to the International Herald-Tribune. In addition to the New York Times, his articles and book reviews have appeared in Atlantic Monthly, Chronicle of Higher Education, Los Angeles Times, and other national publications.
A resident of Chapel Hill, North Carolina, Fiske serves on a number of boards of non-profit organizations working for access to college and international understanding. He is also a founding member of the board of the Central Park School for Children, a charter school in Durham.
Bruce G. Hammond was editor in chief of The Insider's Guide to the Colleges and was managing editor of four editions of The Fiske Guide to Colleges. He is the author of Discounts and Deals at the Nation's 360 Best Colleges and is the school and college expert at Parent Soup, a division of iVillage.com.