Broadway Tails: Heartfelt Stories of Rescued Dogs Who Became Showbiz Superstars (Paperback)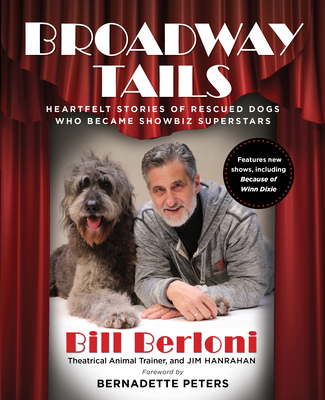 $30.75
This item is not currently available to order.
Description
---
The sun always comes out tomorrow for the shelter animals Bill Berloni rescues--sometimes from death's door--and then trains to meet the demands of the stage. Berloni was a nineteen-year-old theater apprentice more then three decades ago when he was offered his first big break: find and train a dog to appear in the original production of the Broadway hit Annie. Defying the odds, he rescued a down-on-his-luck dog from a local shelter and, together, they redefined what animal performers could do. Since then Berloni and his trainers have provided animals for hundreds of films, commercials, and television shows as well as live theater, including productions of The Wizard of Oz and Winn-Dixie, all over North America. In this heartwarming book, he tells the true stories of "throw-away" animals who came back to work with some of entertainment's biggest names, names like Bernadette Peters, Sarah Jessica Parker, Mike Nichols, the New York City Ballet, and many more. This updated edition includes an account of Berloni's search for the newest Sandy to star with everyone's favorite red-headed orphan.
About the Author
---
In 2011, William Berloni received the Tony Honor for Excellence in Theater, the first ever given to an animal trainer. Berloni began his animal training career in 1976 by rescuing a dog from an animal shelter. That dog was the original Sandy in the Broadway musical, Annie, who performed for seven years - the longest for any animal in Broadway history! Sandy was the first animal to play a major character in theater whose actions influenced the outcome of the story. Before that, no-one had been able to train an animal in that capacity for live theater. That breakthrough ultimately led to Mr. Berloni's star-stuuded career and continued success as Broadway's premier animal trainer. Since that time, he and his trainers have provided animals for hundreds of films, commercials, television shows and printwork as well as live theater all over North America. When not working, his animals live in humane, loving conditions and while on set, they are handled by caring, professional people who are highly skilled in animal behavior. Regarded as an expert in canine behavior, Mr. Berloni has a BFA in theater and has written Doga (Chronicle Books, 2003). He lives in Middlesex county, Connecticut with his wife Dorothy. Jim Hanrahan is a writer and Berloni's brother-in law