Singer's Musical Theatre Anthology - Volume 6: Mezzo-Soprano/Belter Book Only (Paperback)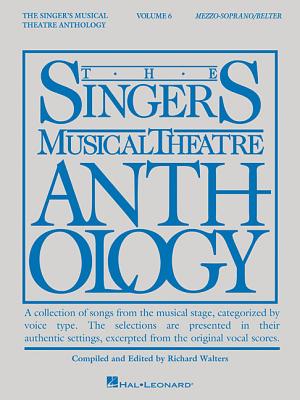 $27.49
This item is not currently available to order.
Description
---
(Vocal Collection). Contents: THE ADDAMS FAMILY: Pulled * BABY: The Story Goes On * BRING IT ON THE MUSICAL: One Perfect Moment * CATCH ME IF YOU CAN: Fly, Fly Away * FALSETTOS: Holding to the Ground * FAME: Think of Meryl Streep * FIRST DATE: Safer * HAIR: Easy to Be Hard * HONEYMOON IN VEGAS: Anywhere But Here * IF/THEN: You Learn to Live Without * Always Starting Over * JOHN & JEN: The Road Ends Here * KINKY BOOTS: The History of Wrong Guys * THE LAST FIVE YEARS: A Part of That * Climbing Uphill (When You Come Home to Me) * LITTLE WOMEN: Astonishing * MERRILY WE ROLL ALONG: Not a Day Goes By * A NEW BRAIN: The Music Still Plays On * NEXT TO NORMAL: Everything Else * So Anyway * NOW. HERE. THIS.: This Time * NUNSENSE: I Just Want to Be a Star * THE SCARLET PIMPERNEL: When I Look at You * SISTER ACT: The Life I Never Led * SONGS FOR A NEW WORLD: I'm Not Afraid of Anything * TITLE OF SHOW: I Am Playing Me * A Way Back to Then * VIOLET: Lay Down Your Head * Look at Me * THE WILD PARTY: Maybe I Like It This Way * The Life of the Party * WONDERLAND: Once More I Can See. Click here to hear most of the songs from this volume on YouTube.