Singer's Musical Theatre Anthology - Volume 6: Baritone/Bass Book Only (Paperback)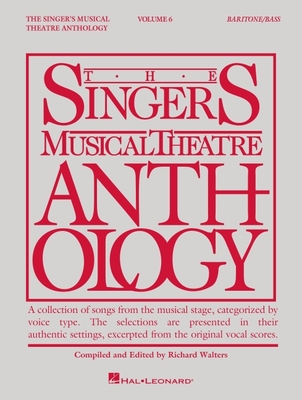 $27.49
This item is not currently available to order.
Description
---
(Vocal Collection). The world's most trusted source for great theatre literature for singing actors Each song is in its original key and has been chosen particularly for each voice type. The selection of songs comes from classic through contemporary shows and the book includes notes about each show and song. Contents: THE ADDAMS FAMILY: Happy/Sad * BABY: At Night She Comes Home to Me * BIG FISH: Fight the Dragons * CATCH ME IF YOU CAN: Fifty Checks * CHAPLIN: The Life That You Wished For * Where Are All the People * COMPANY: Multitudes of Amys (cut) * DEATH TAKES A HOLIDAY: Alive * Roberto's Eyes * I Thought That I Could Live * DICK TRACY (film): Live Alone and Like It * EVENING PRIMROSE: If You Can Find Me, I'm Here * FALSETTOS: Marriage Proposal * FIRST DATE: I'd Order Love * THE FROGS: Fear No More * A FUNNY THING HAPPENED ON THE WAY TO THE FORUM: Everybody Ought to Have a Maid * HONEYMOON IN VEGAS: Out of the Sun * Come to an Agreement * IN THE HEIGHTS: Inutil * JOHN & JEN: It Took Me a While * THE LITTLE MERMAID: Fathoms Below * A LITTLE NIGHT MUSIC: You Must Meet My Wife * LITTLE WOMEN: How I Am * LOVE NEVER DIES: Why Does She Love Me? * A NEW BRAIN: I'd Rather Be Sailing * PASSION: Is This What You Call Love? * No One Has Ever Loved Me * ROAD SHOW: Talen t* SEUSSICAL THE MUSICAL: How Lucky You Are * SHREK THE MUSICAL: When Words Fail * STOP THE WORLD - I WANT TO GET OFF: Gonna Build a Mountain * SWEENEY TODD: Pretty Women * WOMEN ON THE VERGE OF A NERVOUS BREAKDOWN: Yesterday, Tomorrow and Today * YOUNG FRANKENSTEIN: The Brain * Man About Town.