The Comic Book Western: New Perspectives on a Global Genre (Postwestern Horizons) (Hardcover)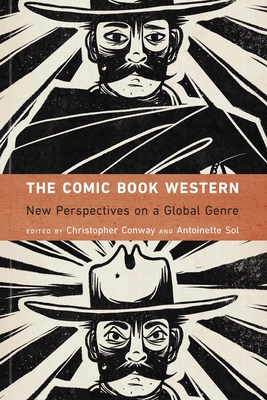 $138.60

Available in our Warehouse: Usually Ships in 3-8 Days
Description
---
2023 Ray and Pat Browne Award for Best Edited Collection in Popular and American Culture

One of the greatest untold stories about the globalization of the Western is the key role of comics. Few American cultural exports have been as successful globally as the Western, a phenomenon commonly attributed to the widespread circulation of fiction, film, and television. The Comic Book Western centers comics in the Western's international success. Even as readers consumed translations of American comic book Westerns, they fell in love with local ones that became national or international sensations.

These essays reveal the unexpected cross-pollinations that allowed the Western to emerge from and speak to a wide range of historical and cultural contexts, including Spanish and Italian fascism, Polish historical memory, the ideology of shōjo manga from Japan, British post-apocalypticism and the gothic, race and identity in Canada, Mexican gender politics, French critiques of manifest destiny, and gaucho nationalism in Argentina. The vibrant themes uncovered in The Comic Book Western teach us that international comic book Westerns are not hollow imitations but complex and aesthetically powerful statements about identity, culture, and politics.
About the Author
---
Christopher Conway is a professor of Spanish at the University of Texas at Arlington. He is the author or editor of several books, including Heroes of the Borderlands: The Western in Mexican Film, Comics, and Music. Antoinette Sol is a professor of French at the University of Texas at Arlington and coeditor of MLA's Teaching Representations of the French Revolution.
 
Praise For…
---
"Conway and Sol have assembled a rich anthology, a balanced, insightful volume that effectively addresses the global nature of its subject. . . . I suspect comics scholars interested in the Western genre, or in comparative studies in general, will find this a useful resource for years to come."—Chris York, International Journal of Comic Art

"Stories of how different nations tell stories that resonate to their citizens using the settings and tropes of the American West make for interesting reading."—Jeffery J. Mariotte, Roundup Magazine

"Masterfully organized and expansive in scope, The Comic Book Western brings together diverse perspectives on the global reach of Western comics. Simply a must-read for readers interested in popular culture, frontier myths, and the transnational life of cultural goods."—William Acree, author of Staging Frontiers: The Making of Modern Popular Culture in Argentina and Uruguay

"Creators outside the United States have restaged the Western's themes to explore their own culture and politics since the beginning of comics. This volume is especially welcome because it looks at the importance of translation, transcreation, adoption, reterritorialization, and hybridity in relation to global comic studies."—Flavia Brizio-Skov, author of Ride the Frontier: Exploring the Myth of the American West on Screen

"The assembled scholars beautifully trace how the oft-overlooked Western comic is truly adventurous, engaging, critical, and vital for any study of transnational and global comics today."—Nhora Lucía Serrano, editor of Immigrants and Comics: Graphic Spaces of Remembrance, Transaction, and Mimesis

"This excellent collection unpacks over a hundred years of reinventions of the frontier theme in comic books and offers trailblazing new readings of the entanglements between the various national traditions. Examining as it does the global reach of the comic book Western genre, and firmly positioning it in the context of transnational comic book history, Conway and Sol's volume is essential reading."—Ewa Stańczyk, editor of Comic Books, Graphic Novels, and the Holocaust 

"The essays collected here establish the historical origins for the international fascination with the American West and its stories, tracing how the Western migrated from other media into comic books and situating the Western comic within the broader context of graphic narratives in their home countries. Together, they reveal how the Western comic both affirms and challenges local and imported cultural traditions and conventions."—Andrew Patrick Nelson, author of Still in the Saddle: The Hollywood Western, 1969–1980