Voice with No Echo (A Jimmy Vega Mystery #5) (Hardcover)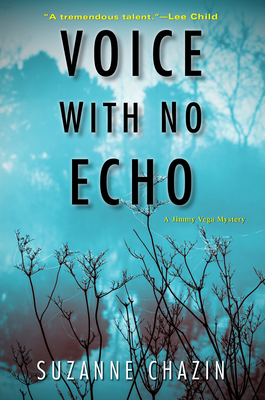 Other Books in Series
This is book number 5 in the A Jimmy Vega Mystery series.
Description
---
A long-buried family secret and a chance encounter with an estranged sibling force police detective Jimmy Vega to confront his deepest fears in this gripping new mystery by award-winning author Suzanne Chazin . . .
 
It's spring in Lake Holly, New York, a time of hope and renewal. But not for immigrants in this picturesque upstate town. Raids and deportations are on the rise, spurring fear throughout the community.
 
Tensions reach the boiling point when the district attorney's beautiful young bride is found hanging in her flooded basement, an apparent victim of suicide. But is she, wonders Vega? If so, where is her undocumented immigrant maid? Is she a missing witness, afraid to come forward? Or an accessory to murder?
 
Vega gets more help than he bargained for when Immigration and Customs Enforcement sends an investigator to help find—and likely deport—the maid. It's Vega's half-sister Michelle, the child who caused his father to leave his mother. Now an ICE agent, Michelle tangles with Vega and his girlfriend, immigrant activist Adele Figueroa. The law is the law, Michelle reminds Vega. And yet, his heart tells him he needs to dig deeper, not just into the case but into his past, to a childhood terror only Michelle can unlock.
 
While Vega searches for the demon from his youth, he discovers one uncomfortably close by, erecting a scheme of monstrous proportions. It's a race against the clock with lives on the line. And a choice Vega never thought he'd have to make: Obey the law. Or obey his conscience. There's no margin for error . . .
About the Author
---
Suzanne Chazin has won widespread acclaim for the Jimmy Vega series, including Land of Careful Shadows, A Blossom of Bright Light, No Witness But the Moon, and A Place in the Wind. She has twice been the recipient of the Washington Irving Book Award for fiction. Her fiction, essays and articles have appeared in numerous magazines and newspapers, as well as the award-winning short story anthology, Bronx Noir. She lives in the New York City area. Visit her on Facebook or at www.suzannechazin.com.
Praise For…
---
Praise for the Jimmy Vega Mysteries
by Suzanne Chazin
 
A PLACE IN THE WIND
 
"Detective Jimmy Vega returns in Chazin's exceptionally powerful series that examines the racial tensions in small-town America. Perhaps even more poignant than ever, this book reflects on a world that readers likely know outside of fiction. The characters are moving and like portraits of real people. The novel is as good as her others, if not one of her best."
—RT Book Reviews, 4.5 Stars Top Pick
 
"Nail-biting . . . Jimmy doesn't rest until he uncovers the truth in this tense page-turner."
—Publishers Weekly
 
"Top-notch storytelling, appealing characters, and a timely controversy guarantee energetic book discussions."
—Booklist
 
NO WITNESS BUT THE MOON
 
"Chazin delivers a complex, suspenseful story, with the grace of a ballerina and the impact of a boxer's fist."
—William Kent Krueger
 
"A terrific mystery that keeps on surprising right to the end. Don't miss this series."
—Robert Dugoni
 
"Get ready for a roller coaster of emotions as you plow through this tense, timely novel."
—Julia Dahl
 
A BLOSSOM OF BRIGHT LIGHT
 
"A literary mystery at its finest—captivating, smart, romantic, and impossible to put down."
—Jacqueline Sheehan
 
"A compulsively readable police procedural that builds to the pace of a thriller with an explosive ending."
—Hallie Ephron
 
LAND OF CAREFUL SHADOWS
 
"This is everything a great suspense novel should be. First rate and highly recommended."
—Lee Child
 
"What a wonderful read! Suspenseful, involving, peopled with colorful, engaging characters. . . This fine novel will touch your heart."
—Julia Spencer-Fleming